Assyrian Documentary Film Maker Dies Unexpectedly
Posted 2011-03-22 01:03 GMT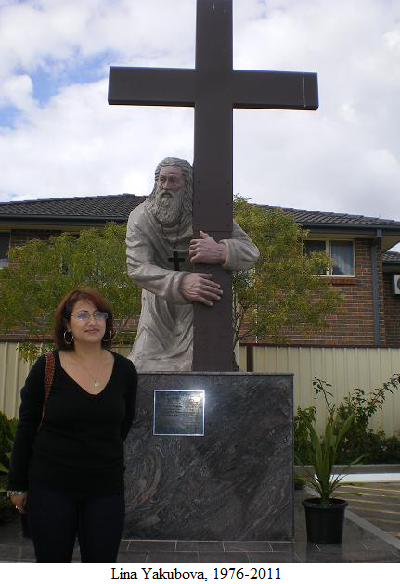 (AINA) -- Lina Yakubova, an Assyrian documentary film maker, died unexpectedly today in Los Angeles. Preliminary reports state the cause of death was undiagnosed liver cancer. Lina was 35 years old.
The Assyrian community worldwide has been shocked by her sudden passing. Mr. Hermiz Shahen, speaking on behalf of the Assyrian Universal Alliance (Australia), said "Lina won the respect and love of all those who were fortunate to meet and work with her. We lack the words with which to express how great this loss was to all members of the Assyrian Universal Alliance."
Mr. Wilfred Alkhas, publisher of Zinda Magazine, said in a Facebook comment, "With a camera and a tripod, Lina Yakubova climbed atop Hakkari, crossed Khabour and Urmia, and before our very own eyes showed us a reflection of ourselves we had never imagined. Her camera gave us a new identity, a picture larger than life, higher than the Ararat of her homeland and more picturesque than Qooylasar. Her vision will always remain with us. Farewell Lina - thank you for reaching for the Star!"
The following is a profile of Lina published by AINA on July 2, 2009.
---
Lina Yakubova was born in Armenia, in the Assyrian village of Dmitrovo (Qoyalasar) in the family of Albert Yakubov and Karina Khachaturyan, both teachers. Her grandmother, Sara, lived with the family until Lina was 4. "Thanks to her," says Lina, "I now fluently speak Assyrian, Armenian and Russian."
Her family moved to the city of Artashat, their current residence, when Lina was 4. Lina finished secondary school with honors as well as a seven-year music school. Her first experience in TV and Radio was at the Central Radio of Armenia where she worked as the presenter of programs about the ethnic groups of Armenia, specifically Assyrians.
During her studies at Erevan Institute of Theatre and Cinema, she started working in television: translating foreign news and writing scripts for different programs. She also became interested in documentary film making. "My first film and first script turned out to be very successful and I decided to devote my career to historical documentary films."
Her film "Assyrians in Armenia" was made by a creative team of volunteers. "The Assyrian Association of Armenia, Atour, under the leadership of Arsen Mikhailov helped in creating this documentary," says Lina, "which paved the way for all the films and projects that we have been working and will be working in the future." The Assyrian Academic Society (USA) helped sponsor the production of the DVD and the screening of the film in the U.S..
The following is a list of Lina's latest films.
Paths of Fate
Historical documentary

In the period between 1914-1918, the Assyrian nation was on the verge of extinction. A number of diseased refugees, suffering from hunger, lost their homes, families, and homeland. They scattered throughout the East and West.

Many refugees found shelter in Armenia, Georgia, and Azerbaijan. Some of them joined their compatriots in Tbilisi, another part was afforded shelter in cities and villages of Georgia. Thousands of Assyrian refugees from Hakkiary region of southeast Turkey headed for various cities of Russia, Europe and America, by way of Tiflis.

Produced & written by Lina Yakubova
Directed by Artak Avdalyan
Original music by Vahan Artsruni
Director of Photography: Karen Stepanyan
Sponsored by the Assyrian Universal Alliance Foundation (Chicago IL)

Assyrian Way
Historical documentary

Part I: To Survive Through...
Part II: Revival
Part III: To itemize the portrait "If Aysors lived in the Volga and suffered from hunger, they would have left that place and reached India. Because Aysors are a great nation" -- Shklovski

The Assyrians, uprooted from their historic home, took shelter in the territory of Russia. There they built their new life and shared all the misfortunes of the local people, and more. Today, at the dawn of the 21st century, after two world wars, the socialist revolution and the collapse of the Soviet Union, there is a large Assyrian Community living in the different cities and regions of this large country.

Produced & written by Lina Yakubova
Directed by Artak Avdalyan
Original music by Vahan Artsruni
Director of Photography: Karen Stepanyan
Sponsored by the Assyrian Universal Alliance Foundation (Chicago IL)

Chants from the East: The Liturgical Music of the Assyrian Church of the East

The present collection of liturgical chants and hymns of the Assyrian Church of the East is of interest not only to the modern enthusiast of ecclesiastical musicology but also to the laymen as well. It is an introduction to the liturgical style of chants and ecclesiastical rites of one of the most ancient and venerable Churches of Christendom--the Holy Apostolic Catholic Assyrian Church of the East.

The most ancient Eucharistic anaphora still in use today by Christendom, the anaphora of the Blessed Apostles of Mar Addai and Mar Mari, is the primary Eucharistic prayer of the Assyrian Church of the East.

The collection consists of 3 CDs and a booklet.

The first CD is a collection of liturgical chants of the Assyrian Church of the East and hymns sung a capella. The second CD, "Sacred Episodes," consists of selections from the divine liturgy taken from the Mar Addai and Mar Mari, presented with musical accompaniment by Vahan Artsruni. The third CD, "Sacred Rituals," consists of episodes from several rites and also includes musical accompaniment by Vahan Artsruni.

The Booklet includes a blessing by Mar Dinkha IV, the Patriarch Catholicos of the Church of the East, a historical introduction by Bishop Mar Awa, a brief written by the composer, Vahan Artsruni, and a letter from the sponsor, Assyrian Universal Alliance Foundation.

Documentary recording of Father (Qasha Daryavush) Azizian and deacon (Shamasha) Charles Catholic.

Produced by Lina Yakubova
Sponsored by Assyrian Universal Alliance foundation (Chicago, USA)