Dr. Donny George, Former Director of Iraqi National Museum, Passes Away
Posted 2011-03-12 19:55 GMT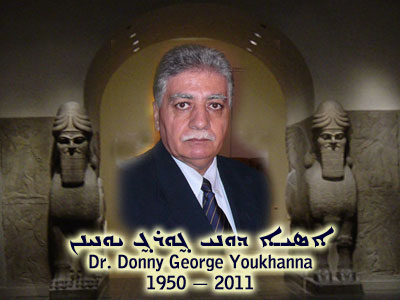 (AINA) -- Dr. Donny George, an Assyrian and the former director of the Iraqi National Museum, collapsed at Toronto International airport. He was taken to hospital where he was pronounced dead a short time later. Dr. George was in Toronto to deliver a lecture on Mesopotamian artifacts and those that were looted from the museum following the war in 2003.
Dr. George was an internationally renowned archaeologist and Assyriologist. He is credited with the saving the Iraqi National Museum after the fall of Saddam Hussein and with leading the effort to recover the artifacts that were looted from the museum. He was a visiting Professor of Anthropology at Stony Brook University in New York.
"I am an Assyrian Christian," Dr. George said once, "and all my ancestors had lived in Mesopotamia, now Iraq, from the ancient times of the Assyrians, more than five thousands years ago, I have dedicated all my life to work and serve my people and country with honor and loyalty, because this is my country."
Dr. George was forced to flee Iraq along with his family after he received numerous death threats from Muslims, including a letter with a bullet inside and a note threatening him with beheading because he "worked for the Americans." He came to the Unites States in January, 2007.
Related stories:
Iraq Museum's Director-General Lectures About Antiquities
From Baghdad to New York: an Assyrian Archaeologist's Journey
Iraq's Treasure Trove National Museum Reopens
Threats to Iraq's Communities: Assyrians Testify Before the U.S. Congressional Commission
Priceless Assyrian Relics Used for Target Practice
United States Commission on International Religious Freedom