Chicago Conference to Address Muslim Persecution of Middle East Christians
Posted 2011-03-11 05:31 GMT
(AINA) -- A conference will be held in Chicago this Saturday to address the persecution of Christians in the Middle East. The conference is sponsored by a coalition of Christian groups and Middle Eastern Christians, including Assyrians, Maronites and Copts.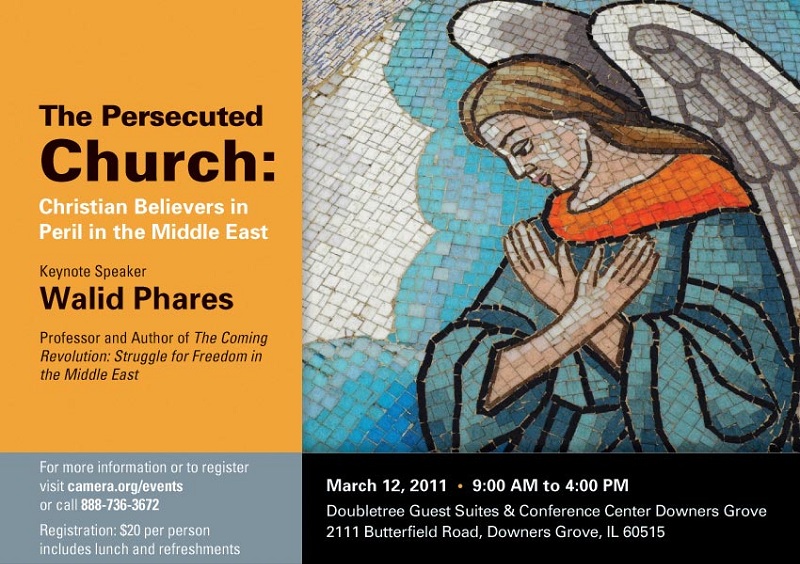 Persecution of Christians in the Middle East has risen sharply in the last decade. Since the liberation of Iraq in 2003, the Assyrians, Iraq's only indigenous group, have experienced a low-grade genocide, forcing nearly 50% of Assyrians to flee to Jordan and Syria (report). Assyrians have been nearly completely displaced from south Iraq and Baghdad; their churches have been bombed and thousands have been killed (report).
The Christian Copts of Egypt have experienced a spiraling increase in violence as Muslims attack them and their churches. Only yesterday 9 Copts were killed and 150 injured when a mob of 15,000 Muslims attacked a Coptic church and neighborhood (AINA 3-9-2011).
According to the organizers of the conference
Recent attacks against churches in Iraq and Egypt demonstrate that Christianity faces an uncertain future in the Middle East. The one day conference will bring together representatives from the Christian communities in Lebanon, Iraq and Egypt to speak about the day-to-day threats faced by Christians in the M.E.. Activists serving the persecuted church in Muslim-majority countries will describe their efforts to promote human rights in the Middle East.
The conference is sponsored by
Annunciation Byzantine Catholic Church, Homer Glen IL
Calvary Church, Naperville, IL
Committee for Accuracy in Middle East Reporting in America (CAMERA)
Coptic Orthodox Church of Chicago
Eastern Christian Media
Iraqi Christian Relief Council
North Suburban Evangelical Free Church, Deerfield, IL
Open Doors USA
Our Lady of Lebanon Maronite Catholic Church, Lombard, IL
St. Andrew's Episcopalian Church, Carbondale, IL
Tabor Life Institute
The Voice of the Martyrs
Speakers include
Juliana Taimoorazy, executive director of the Iraqi Christian Relief Council
Dr. Wagih Nessim, Dr. Kamal Ibrahim and Mr. Cameel Halim, of the Coptic Orthodox Church of Chicago
Todd Nettleton, Voice of the Martyrs
Dr. Carl Moeller, President/CEO of Open Doors USA
Rev. Keith Roderick, Moody Church