Pre-islamic Christian Monastery Discovered in Najaf, Iraq
Posted 2010-11-19 02:29 GMT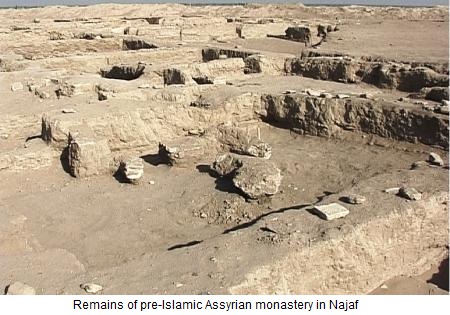 Najaf, Iraq (AINA) -- Iraqi archaeologists have discovered a pre-Islamic Christian monastery a few meters from the southern side of the runway at Najaf International Airport in Iraq. Najaf is about 166 KM south of Baghdad. The monastery dates back to the era of the Manathira state, which predated Islam (630 A.D.).
This newly discovered monastery is one of more than 50 monasteries which archaeologists say existed in the area around Najaf; a number of them were discovered in Al-Heera District, the Sea of Najaf and Qada Kufa.
The director of Archaeology of Najaf, Mr. Mohammad Hadi Mayali, told Iraqi Media Network there are five exploration operations for these new discoveries starting from Nahiya Alhaidariya, 40 KM north of Najaf, and stretching to Nahiya Al-Mashkhab and Abu Sukhayr, 30 KM south of Najaf.
Mr. Mayali added that Qadha Kufa contains many archaeological sites which have not been excavated, some of which belong to the Islamic civilization, when Kufa was the capital of the Islamic State.
Mr. Abdul Sattar Al-Nafakh confirmed to the Iraqi Media Network of the presence of more than 200 archaeological sites in Najaf which are not explored yet, and which need to be brought to the attention of the central government to designate as national landmarks of ancient Iraqi civilization.
Archaeological excavations began in Najaf after the fall of the former regime and a large number of sites and important buildings were found but they are vulnerable to weather changes, resulting in damage to some of them.
Translated from Arabic by AINA.