Assyrians Rally in Melbourne in Protest of Baghdad Church Massacre
By Joseph Haweil
Posted 2010-11-16 04:03 GMT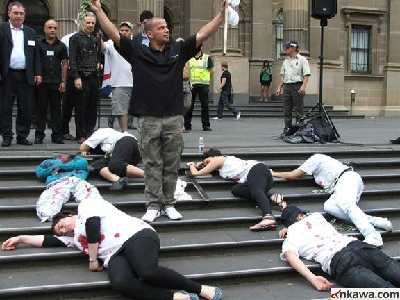 Melbourne (AINA) -- In a show of mourning and solidarity more than 1300 members of Australia's Assyrian Chaldean Syriac community rallied this week in the Victorian state capital, Melbourne, aiming to bring attention to the ongoing persecution of Iraq's Christian community.
The peace rally was organized by seventeen Assyrian Chaldean Syriac community organizations in Melbourne and held on the steps of the State Library of Victoria. Protestors were spurred to action by the recent 'Black Sunday Massacre' in Baghdad in which 58 Christians were murdered by extremists. The rally also came only two days after Christian homes were targeted in Baghdad resulting in the death of another six Christians.
As speeches were read and a short dramatic performance staged, rally participants held banners and placards calling for an end to the calculated targeting of Iraq's Christian community. Many signs exhibited graphic photographs of murdered Christians or attacked churches. Writing to the Australian government, rally organizers called on the international community and the United Nations to work with Iraq in protecting its Christian minority. The letter also reiterated the call of numerous Assyrian Chaldean Syriac groups around the world for the establishment of a self-administrative unit in Iraq in which Assyrian Chaldean Syriac Christians would be able to administer their own local affairs.
Hundreds of emotional participants expressed their anguish and sorrow at the treatment of Christians in Iraq and concluded the rally with spirited chants of 'Save the Christians of Iraq.'