Assyrians Held Hostage in Baghdad Church
By Ernesto Londoño and Aziz Alwan
Posted 2010-10-31 18:24 GMT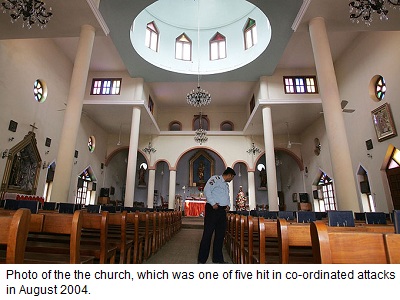 BAGHDAD -- Assailants attacked a prominent Baghdad church Sunday evening during mass, and were holding parishioners hostage as Iraqi troops ringed the area, security officials said.
Before storming the Assyrian Catholic church, the band of gunmen, armed with handguns, grenades and at least one car bomb, got into a gunfight with guards outside a branch of the Baghdad stock exchange, police officials said.
Two stock exchange guards were killed in the confrontation, a police official said. As Iraqi soldiers moved in on the assailants, they drove off in a car rigged with explosives, parked it at the front entrance of Our Lady of Salvation Church in the upscale Karrada neighborhood, and detonated a car bomb outside.
After the blast, the gunmen ran into the church.
Hussain Abdul Amir, 35, who lives nearby and witnessed portions of the attack, said the gunmen did not appear to be Iraqi.
"Their accent was not Iraqi," he said.
He said the gunmen were demanding the release of al Qaeda inmates in Iraqi custody.
Iraqi officials did not immediately confirm that account.
A Washington Post special correspondent who was nearby when the church was being attacked said National Police officers were firing AK-47s outside the church. It was not clear whether they were firing in the air or exchanging fire with the attackers.
Iraqis who live or work in the area scurried inside homes and shops while hundreds of security forces moved in.
The security officials spoke on condition of anonymity because they are not authorized to speak to reporters.
Al Qaeda in Iraq has taken responsibility for recent attacks on financial institutions in Baghdad. Sunday is a working day in Iraq, but the stock exchange was closed when the gunfight started.
There have been numerous attacks on Iraqi Christians in recent year, mostly in northern Iraq. But hostage situations here are extraordinarily rare here.