Assyrian Politician Attacked in Sweden
Posted 2010-09-26 20:57 GMT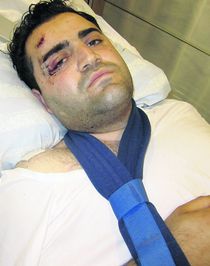 Gothenburg, Sweden (AINA) -- An Assyrian politican, Issa Issa, who is a member of the Sweden Democrats party, was attacked on Thursday by a gang of 40 men. According to the Swedish newspaper Aftonbladet, stones were hurled into Mr. Issa's apartment after 10 PM on Thursday, through the windows in the kitchen, bedroom and living room, shattering them all. Mr. Issa saw two boys outside, who shouted "fucking Christian, fucking Sweden Democrat, come down," when they saw him. Mr. Issa chased them around the corner, where a gang of 40 men was waiting for him.
"It was a trap," said Mr. Issa, "I tried to go back and called the police while I ran."
Someone in the gang fired a gun but it missed Mr. Issa.
"I received a blow to the eye. One took out a knife and held it against my neck. Then he stabbed me in the shoulder. Now I'm paralyzed in the right hand. They said they would kill me."
He was also stabbed in back, hand and leg. A bottle was smashed against his head and he was kicked and beaten.
According to Aftonbladet the attackers were young, 15-20 years old. Witnesses report the attackers appeared to be Muslims.
Mikael Jansson, Sweden Democrats president in Gothenburg, said "We fear that this attack is politically motivated. Issa had previously, on election day, been the victim of a threat when he was at a polling station and handing out ballots. We are experiencing hate for Sweden Democrats, and that other politicians do not take a stand against this."
The Sweden Democrats party has been characterized as being against immigrants and against immigration, though there are many immigrants in its ranks.
Mr. Issa announced that he would leave the Sweden Democrats party and end his political career.