Disappearance of Priest's Wife Leads to Coptic Demonstrations in Egypt
Posted 2010-07-23 07:23 GMT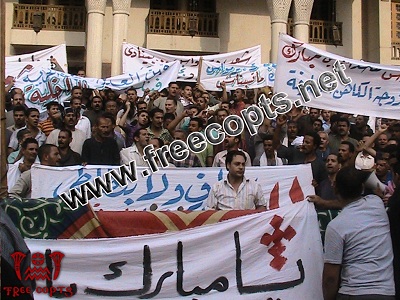 (AINA) -- The unexplained disappearance of a Coptic priest's wife in Upper Egypt has led today a sit-in staged by thousands of Copts at the Coptic Patriarchate in Cairo, to protest what they consider "collusion by the state security services." There are rumors that Islamists have abducted her. They promised to continue with their sit-in until the state security divulges her whereabouts.
Nearly three thousand demonstrators, joined by clergy, protested the lack of protection for Copts by state security, chanting "They abducted the wife of our priest, tomorrow they will abduct us" and "Where are our abducted girls or is it because they are Christians?" (video)
Police surrounded the Cathedral to prevent the demonstrators from going out to the streets.
On Monday, July 19, Father Tedaos Samaan, priest at St. Georges Church in Deir Mawas, Minya Governorate, returned home to find that his wife was missing from the previous night. He said that he was on a short visit to his parents with his toddler son, as his teacher wife Kamila Shehata was on a short placement to another school.
According to Father Tedaos (aged 30), the last times he spoke to his wife (24) was at 9.15 PM when she told him that she was at home, and was on her way to overnight at her parent's home, 100 meters away. She never arrived there.
Anba Agapios, Bishop of the dioceses of Delga and Deir Mawas, deplored the treatment by officials of the state security apparatus in Minya. They told him that they have the priest's wife with them and promised to deliver her to her family within hours and then they came back and retracted their statements and their promises to him. Consequently he asked his congregations to go to Cairo and stage a sit-in at St. Mark's Cathedral, until state security acts. He appealed to Copts in all the Egyptian governorates to stand together alongside their brethren during their sit-in.
In an aired interview on July 21 with the newly launched US-based Coptic Hope TV, Father Tedaos said that nearly 3000 of Deir Mawas youths and the neighboring villages "have hired buses to go to the Cairo for the sit-in, however, state security intercepted and detained them on the roads. "Where is the freedom? Are we not allowed to go to our father's house [the Pope] and speak out of what is ailing us?" he said. "But their brothers in Cairo and the other areas will make their voice heard," he assured.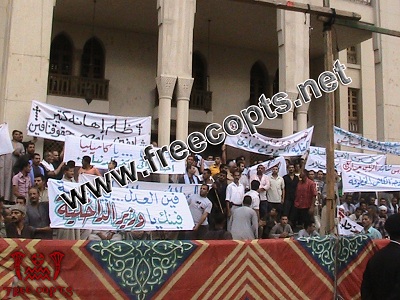 The priest complained of the treatment by the authorities. "Whenever I phone them, they say they have no news and they do nothing. They only give me pain-killers, nothing more." He said state security knows the whereabouts of everyone, "they can even find a needle anywhere in the whole of Egypt."
Father Tedaos said that he obtained the last calls his wife received on her mobile phone from her service provider, and it was a call from an Azhar (related to Al-Azhar) colleague. Father Tedaos went as far as saying in his interview that this Azhar colleague has been planning for one year to send his teacher wife to a placement to another village school. "I gave this information to the security officers, but no one bothered to interrogate him. Now he has completely disappeared," he added.
Coptic activist Sherif Ramzy said that the priest represents the Copts and any assault on him is an assault on all the Copts.
Father Tedaos said that apart from his wife, there have been five other Coptic females who were abducted from Deir Mawas in the last 50 days. "But to abduct a wife of a priest is something else, as he represents the Church," said Sherif Ramzy.
"It is a sin what is happening to the Christians in Egypt," Father Tedaos said. "If the Islamists want to kill us, let them go ahead and do it," he said.
Father Tedaos appealed to President Mubarak for the return of his wife.
By Mary Abdelmassih