Assyrian Demonstration Held in Southern California
Posted 2010-05-28 00:01 GMT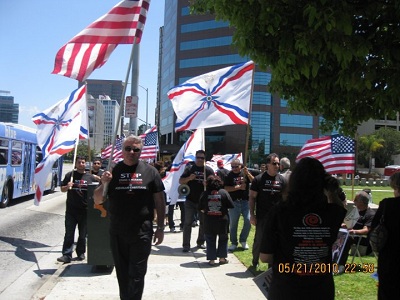 Los Angeles (AINA) -- Assyrians from Southern California held a demonstration on May 22nd, from 10:30 AM to 2 PM, at the Wilshire Federal Building in Los Angeles (video). The demonstrators were calling attention to the bus bombing in Mosul and the persecution of Assyrians in the Middle East.
"Ethnic Cleansing of Christians, mainly Assyrians, has been a constant burden on our people for centuries," said organizer Albert Davidoo, "and has sharply escalated in Iraq during the last few years" (report).
Mr. Davidoo's goal in organizing the demonstration was to attract local news media and call attention to the ongoing persecution of Assyrians in Iraq. Additional rallies are planned for the region.
Mr. Davidoo hopes to sponsor similar events in Assyrian communities throughout the United States and other countries. "I urge all communities to come together and declare the first Monday of every month as Assyrian awareness day," he said, "and hold demonstrations to making our voice heard."