Assyrians Protest in Baghdad
Posted 2010-03-01 06:16 GMT
Baghdad (AINA) -- Hundreds of Assyrians protested peacefully on Sunday in Baghdad, calling attention to the wave of violence against Christians in Mosul in the past ten days, in which 10 Assyrians (also known as Chaldeans and Syriacs) have been killed. The attacks have prompted an exodus of Assyrians from Mosul.
The following is a list of Assyrians killed in the last ten days:
February 20: Gunmen entered the house of Aishwa Maroki, 59, and killed him and his two sons -- Mokhlas, 31, and Bassim, 25.
February 20: Adnan al-Dahan, 57, was found with bullet wounds to his head in the northern Mosul district of al-Belladiyat. He had been kidnapped from his grocery shop the week before in the neighborhood of Al-Habda, also in northern Mosul.
February 17: The bullet-riddled body of Wissam George, a 20-year-old Assyrian Christian, was recovered on a street in the south Mosul residential neighbourhood of Wadi al-Ain.
February 16: Zia Toma, a 21-year-old engineering student, was killed and Ramsin Shmael, a 22-year-old pharmacy student, wounded.
February 15: Rayan Salem Elias, a Chaldean Christian who ran a business dealing in a traditional meat dish, was killed outside his home in East Mosul.
February 14: Fatukhi Munir, an Assyrian Catholic, was gunned down inside his shop in a drive-by shooting.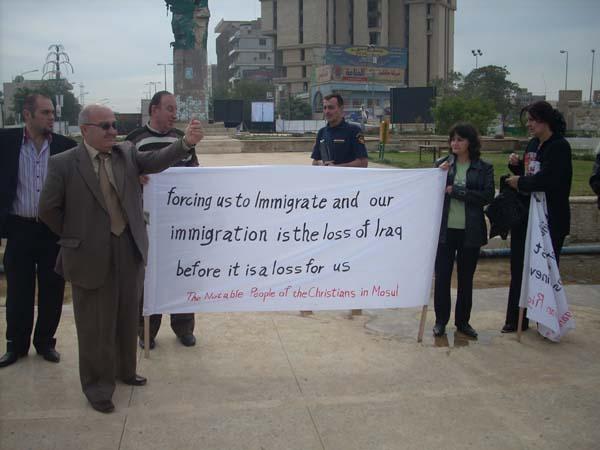 Violence against the Assyrian community began on June 26, 2004, the first church boming, and drew little attention. Two unidentified men in a silver Opel throw a hand bomb at the Holy Spirit Church in Mosul. Five weeks later, on August 1st, 2004, coordinated bombings struck five churches, four in Baghdad and 1 in Mosul (pictures). 65 churches have been bombed since June 26, 2004 (Church Bombings in Iraq Since 2004).
In October of 2008 a campaign of violence targeted the Assyrian community and forced nearly 15,000 Assyrians to flee the city (AINA 10-14-2008).
Since the liberation of Iraq, a systematic campaign has targeted Assyrians (report), causing nearly 40% of them to flee to Jordan and Syria (report).