Violence Against Christians Continues in Egypt After Christmas Eve Shootings
Posted 2010-01-10 16:31 GMT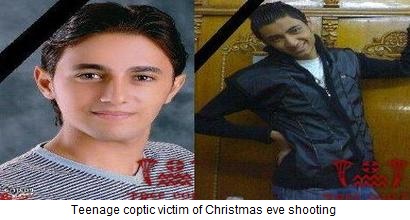 Egypt (AINA) -- Violence broke out in the evening of January 8, 2010, in the southern Egyptian town of Nag Hammadi, in the main market and 'Bein el Mehatat' area, spreading as well to the neighbouring town of Bahgoura. Muslim mobs used swords, butane gas cylinders for explosions and Molotov cocktails to loot and torch Coptic-owned homes, shops and cars (video).
Mary Om Boktor Kyrollos, a Coptic widow from Bahgoura, died of fumes after her home was torched yesterday by Muslims while she was indoors. She was buried in the early hours of January 09, 2010.
Reverend Misaeel, pastor of the church in Bahgoura told Coptic News that violence started on Friday at 20:00. In Bahgoura, 3 kilometers from Nag Hammadi, where most of the violence took place, inhabitants confirmed that water and electricity were disconnected in the evening, during the fires. "Fire brigades arrive 90 minutes late, and the vehicles which arrived had empty tanks."
Eyewitnesses said the perpetrators were chanting "Allah is Great" and "No God except Allah" while destroying, looting and torching Coptic property.
"When the State Security forces are not present, the Muslims come to loot and burn, and when the forces return to the area, the Muslims disappear. They simply do not arrest them, they just tell them to go away," an eye witnesses told Coptic News Bulletin in an interview. "State Security is only present in front of the Coptic Diocese."
Complete absence of security forces was confirmed by another eyewitness. "All Copts are terrified and are staying indoors," he said.
According to Free Copts, Muslims mobs were led by elements loyal to the first defendant in the Christmas Eve Massacre on January 6, 2010, when the Christian congregation was sprayed with bullets as they came out of church after celebrating the Coptic Christmas Eve mass. 8 were killed and 15 wounded (AINA 1-7-2010).
Funeral services for the victims of the Christmas shootings took place on Thursday, led by Bishop Kyrillos of the Nag Hammadi Diocese, and was attended by several thousand Copts. (video of funeral). It was reported that Muslims pelted the funeral procession with stones.
By Mary Abdelmassih