Muslim Convert to Christianity Prevented From Leaving Egypt
Posted 2009-09-26 00:19 GMT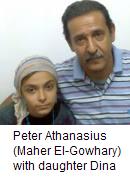 (AINA) -- Egyptian authorities have prevented Maher El-Gowhary, a Muslim-born Christian convert, from leaving the country. He was detained at Cairo Airport. His passport confiscated and he was advised that he is barred from traveling on orders from a 'higher authority'.
Maher and his 15-year-old daughter, Dina, who also embraced Christianity, were traveling to China on 17th September 2009, on a two-week holiday.
Ibrahim Habib, chairman of United Copts GB, who spoke with El-Gowhary during his detainment at the airport, said that Maher was treated very badly by airport security, and was told of his travel ban "less than an hour before departure."
Human rights lawyer Nabil Ghobrial joined Maher at the airport. He filed an incident report at the airport police station. According to Ghobrial it is against the law to prevent a citizen from traveling unless there is a legal reason. He says the so-called 'higher authority' should have been named and that his client will file a lawsuit against the Prime Minister and the Interior Minister, besides a compensation lawsuit for damages.
In an aired interview with Coptic News Bulletin on September 17, Maher El Gowhary said "The authorities are trying to pressure us [he and his daughter] to convert back to Islam, but this will never happen, even if we have to live on the streets. We love our Lord Jesus, and we have left Islam for good."
On August 4, 2008, after 34 years of practicing Christianity, 57-year-old Maher El-Gohary, whose Christian name is Peter Athanasius, filed the second ever lawsuit of a Muslim-born Egyptian against the Egyptian Government to officially alter his identification documents to reflect his new Christian identity. He lost the case on June 13, 2009 (6-16-2009). Although the verdict is on appeal, he said this usually takes years before being brought to the courts. However, he insists that if he does not win his case in Egypt, he will take it to international courts.
Maher and Dina have been living in hiding ever since he filed his lawsuit, Muslim radicals have called him an apostate and several calls for 'spilling his blood' have been issued. He has to change frequently where he lives, to evade being killed, and friends supply him with food. "We cannot sleep, eat or go out in the street. What have my daughter and I done? we have just filed a lawsuit to get out rights, so why are they holding us against our will?"
He went on to say, "I filed a lawsuit to get my Christian details recorded on my ID, I asked for the same treatment as the Baha'is who could be issued ID cards that didn't identify them by religion. I was refused because I am a Christian." He said that Baha'is are protected by the government, unlike converts to Christianity, who are left on purpose by the government to fend for themselves, in order to be killed. "The State Security incites drug dealers to kill us, as they give them the impression that we are working for police investigations as spies on them. They tried to kill us on several occasions."
"If they give Muslim-born Christians the right to change, I can assure you, that all of Egypt will convert to Christianity." He went on to relate in the Coptic News interview that during the hearings of his lawsuit, Muslim lawyers warned the presiding judge, Hamdi Yassin, that if he allows a change in Maher's case, this would "open the gates of Hell on them," meaning a torrent of Muslims converting to Christianity.
The number of Muslim-born converts to Christianity in Egypt, who are keeping their faith secret, has reached several million. Due to the State Security's persecution, torture and rape, they have established outside Egypt an organization called "Freed by Christ" as well as "Way TV" to speak on their behalf to the West, and expose their sufferings at the hands of State Security. It is headed by the Christian convert Dr. Mohamad Rahouna, ex-dean of the Faculty of Arabic Studies, Minya University, who fled to the United States.
"We, the Christian converts are treated worst than animals. I was able to travel freely before filing the lawsuit," El-Gowhary said "I filed the case for the sake of other converts, who have become tremendous in number, all living underground, among whom there are young girls who will never be able to get married unless a change happens. Personally, I would not benefit out of the lawsuit, but I wanted to get some development in this problem."
Portraying their dire situation he said: "If we forge our documents we are imprisoned, if we file a lawsuit we lose the case and they persecute us. What should we do?" El-Gowhary said.
On September 22, El-Gowhary and his daughter made another attempt to travel to China, but he was again stopped from leaving the country. "I had to make sure that I was really barred from traveling, because I was told nothing officially," he said.
"I really don't know where to go now, our location has now been revealed. I feel so sorry for my daughter, such a young girl staying at home all the time," he said "They will never let us leave and they will never have mercy on us. Our only chance of getting out of the country, is by obtaining a foreign passport."
El-Gowhary believes that external pressure on Egypt would be the best means to achieve any rights for Muslim-born converts to Christianity.
The International Humanist and Ethical Union (IHEU) in co-ordination with The United Copts GB, submitted to the UN Human Right Council in its 12th session (September 14 to October 2, 2009) a paper titled "Religious discrimination against converts to Christianity in Egypt," criticizing Egypt and specifically citing the case of El-Gowhary as an example. IHEU calls for all states to eliminate laws which require citizens to specify their religion on official documents and to permit all citizens to freely change their religion or belief without discrimination. It also calls on OIC member states in particular to end discrimination against non Muslims.
By Mary Abdelmassih