Egyptian Coptic Priest Banned From Village, Under Death Threat
Posted 2009-08-21 14:07 GMT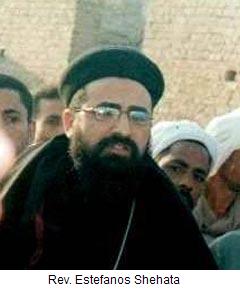 (AINA) -- On August 14 Rev. Estefanos Shehata, a Coptic priest, sent a letter to the Middle East Christian Association (MECA) stating the Muslim elders of his village have issued a death Fatwa (religious edict) against him, and have banned him from entering his village because he wants to convert part of his family home into a hall where he can carry out funeral rites and marriage ceremonies. The village of Upper Ezbet Dawoud Yousef is 200 kilometers south of Cairo, in the Minya Governorate, and has no church; religious functions for the 800 Coptic Christians are performed on the street.
Rev. Estefanos said that after converting the 100 square meter room in his family's home in the village into a prayer hall two years ago, he went to the state security to get the necessary permit, but has not been given an answer nor the permit.
"I finally went to the state security to get a definite answer to the permit application. They told me I need to obtain 'permission' of the village Muslims, as they (state security) want no problems in the village," Father Estefanos told Waguih Yacoub of MECA, "I told them that I see no problems in getting this permission as we have always had good relations with the village Muslims and we love and consider them as our brothers."
When he informed the Muslim villagers of his plan, they called for a meeting with the elders of the neighboring villages. "They were extremely angry at my proposal and instead of giving their permission, they issued a Fatwa calling for my death. They told the Copts in the village that it takes just one bullet to get rid of me since there is no 'blood money' for killing a Christian. I have been banned from my village for over a month now, I cannot even go my mother."
In a video interview with Free Copts, a Coptic advocacy group, Rev. Estefanos said "Enough humiliation and persecution of the Copts, I do not fear death and issuing a Fatwa to spill my blood is an honor for me." The interview is available on youtube.com.
"The Muslim elders also said that it is through grace on their part that we are allowed to go to the neighboring village to pray," said Rev. Estefanos. The nearest church is five kilometers in the village of El-Tayebah.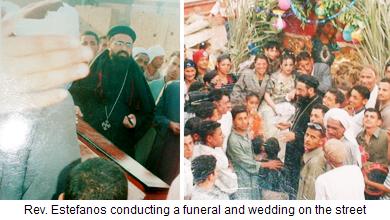 He went on to express his dismay with his Muslims neighbors, asking "What harm is it to you if we have a hall? What harm is it to you if we build a church? This is one question. Secondly, why do we have to conduct a funeral in the street? Why do we have to celebrate weddings, with the bride and groom standing in the street? This is definitely not right. Why are Muslims angry when Christians want to pray?"
According to United Copts Great Britain, the Patriarch of the Coptic church, H.H. Coptic Pope Shenouda III, upon hearing of this news asked his secretary to contact Rev. Estefanos to get the details of the case.
The International Organization for Human Rights, based in Frankfurt, Germany issued a press release condemning the fatwa.
Minya Governorate has had the lion's share of sectarian strife and violations against the Copts this year.
In view of the policy of impunity towards the Muslims perpetrators, Egypt has seen a new and escalating phenomenon of Muslim villagers who have given themselves the right to collectively prevent their Christian neighbours from praying even in a house. In
In June and July of this year the Upper Egyptian villages of Ezbet Bouchra, Ezbet Guirgis Bey, Ezbet Bassilious, El-Foqaii and El-Hawasla saw Muslim vigilante mobs, turning out in great numbers to destroy Christian properties they 'suspect' is being used for prayers, under the pretext that these properties do not have a 'license for prayer'.
By Mary Abdelmassih