Congresswoman Schakowsky Asks Clinton to Address Assyrian Crisis in Iraq
Posted 2009-08-10 21:30 GMT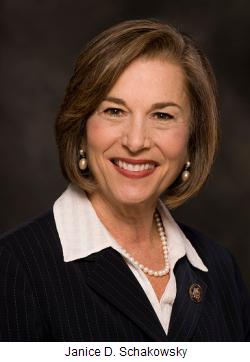 (AINA) -- The continuing crisis (report) for the Assyrians of Iraq has prompted Congresswoman Janice D. Schakowsky (9th District, Illinois) to send a letter (PDF) to U.S. Secretary of State Hillary Clinton. Calling attention to the "ongoing ethno-religious cleansing of Iraq's Assyrian/Chaldean/Syriac Christian community," Mrs. Schakowsky says in the letter:
Iraqi Christians have faced relentless persecution, threats, and violence since the commencement of United States operations in Iraq, and the danger has accelerated dramatically since 2004. In fact, 2008 represented one of the most devastating years for Iraqi ethno-religious minorities, especially the Assyrian/Chaldean/Syriac Christians. Because of the ongoing crisis facing minority groups, the U.S. Commission on International Religious Freedom has now formally designated Iraq a 'Country of Particular Concern.'

Despite this ongoing crisis, the United States has consistently failed to develop a comprehensive policy to address this serious situation. However, I believe that we now have an opportunity to encourage widespread recognition of this crisis and work together to find a solution. Any successful diplomatic policy must consider security, development, and governance dimensions, and must recognize the centrality of the Nineveh Plains to the future of these people. It also must include the full implementation of Article 125 of the Iraqi constitution.
Mrs. Schakowsky's letter is the fourth to be sent this year to Secretary of Clinton regarding the precarious situation of Iraq's Assyrian community. On July 10, 2009 a letter (AINA 7-10-2009) from Senator Joseph Lieberman (Connecticut) and Senator Susan Collins (Maine) called attention to the plight of Iraq's minorities. On March 27, 2009 Congressman Frank R. Wolf (10th District, Virginia) sent a strongly worded letter to Secretary of State Hillary Rodham Clinton regarding the perilous situation of the Assyrians of Iraq (AINA 3-27-2009). On March 12, 2009 a letter from Senator Sam Brownback, Senator Roger Wicker, Senator Carl Levin, Senator Robert P. Casey Jr. and Senator Banjamin Cardin called attention to the plight of Iraq's Assyrians (AINA 3-12-2009).
Despite these repeated calls for action, the State Department has not developed a policy on the Assyrians of Iraq, whose population has declined from 1.5 million in 2003 to 500,000 at the present; 50% have fled the country. Of the 750,000 Iraqi refugees in Jordan up to 150,000 are Assyrians. Of the 1.2 million Iraqi refugees in Syria, 70,000 to 500,000 are Assyrians. The Assyrian populations of Baghdad and Basra have been driven by Islamists into exile or to North Iraq -- Baghdad and Basra are nearly empty of Assyrians now.
59 churches have been attacked or bombed since June, 2004: 40 in Baghdad, 13 in Mosul, 5 in Kirkuk and 1 in Ramadi. The latest bombings occurred on July 12, 2009, when 7 churches were bombed in Baghdad.
On July 24, 2009 Frank Wolf (R-VA) and Anna Eshoo (D-CA), co-chairs of the Congressional Religious Minorities in the Middle East Caucus, sent a a letter (AINA 7-24-2009) to Iraqi Prime Minister Nouri Al-Maliki. The letter called for greater security at Christian places of worship and urged an investigation into who was behind the most recent attacks.
On July 16, 2009 the Assyrian Universal Alliance sent a letter to Maliki calling for "the Iraqi government [to] convene an emergency assembly to discuss and unanimously approve and ratify the Assyrian right to autonomy and grant us the requested autonomous region on our ancestral lands in North Iraq." (AINA 7-16-2009)