Muslim Mob Attacks Church and Loots Christian Homes in Egypt
Posted 2009-06-22 18:02 GMT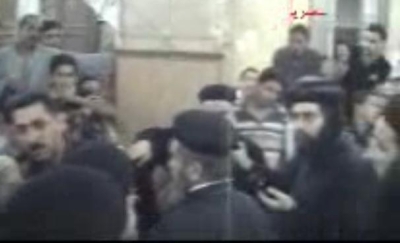 (AINA) -- An Egyptian Muslim mob attacked a church on Sunday, 6/21/2009 in the village of Ezbet Boshra-East, El-Fashn, smashing its windows and assaulting Copts with clubs and white weapons, wounding 25 Copts, in the presence and with the instigation of the State Security.
On Monday 6/22/2009, El-Fashn prosecution issued an order for the village priest, Reverend Isaac Castor, to appear before them, on charges of sectarian sedition after three Muslim women accused him of hurling stones at them from inside the church.
The Church is still besieged by State Security and the priest is still confined to the Church walls, together with 10 people and three children not exceeding the age of five years. "The prosecution wants to get me out there, together with those who are with me, in order to make arrests. None of us are leaving the Church premises," the priest said. "I do not know why I am besieged inside the Church in this way, together with my toddlers. I am not a criminal, neither are the people who are with me."
Bishop Estephanos of Beba El Fashn Diocese, together with other priests called for a sit-in at the Cathedral of the Holy Virgin in El-Fashn, demanding the release of the unlawfully arrested Copts. The sit-in included families of those arrested, who refused to leave the Cathedral. (video of sit-in).
"As if I'm dreaming what went on, such savagery! It broke my heart to see my children [congregation] treated in such beastly and barbaric way" said Rev. Isaac to Coptic News Bulletin. "It is as if we are back to the Era of Diocletian" (Roman emperor who carried out the worst persecution in the history of the Copts) .
"A curfew was placed on Copts on Sunday in Ezbet Boshra-East village including me and my family, while Muslim offenders are free," said Reverend Isaac
Homes of nearby Copts were broken into on Sunday by the Muslim mob, which included women, assaulting the residents including young girls, and destroying their furniture and looting electrical equipment. "These assaults were followed by security officers, assaulting Copts and destroying what remained of their belongings. When asked by a Coptic woman why they are doing this, the officers answered that they have 'orders' to do so," added Reverend Isaac. "Now the Coptic inhabitants are living in terror."
"State Security went into homes of the Copts and forcibly rounded up the men. At present 19 Copts are under arrest including children under twelve and people over 60 years of age," said Reverend Isaac. "I have sheltered 10 other Copts in the Church to save them."
The incident happened when 6 young Copts living outside the village came to visit the priest who lives at the top floor of a 3-storey building owned by the Church and which used for ceremonies and prayers. The same church was attacked by Muslims in August 2008. The security police tried to prevent the visitors from entering the village, but after an altercation they were allowed in. Later a police constable asked them to end their visit and leave separately. While on their way out, they found a Muslim mob awaiting them. Muslims harassed the young visitors and one Muslim woman struck a Coptic woman on the face. At that moment violence broke out, and Muslims began to attack the building using bricks and sticks, injuring 25 Copts, and destroying the priest's car.
State Security has cut all telephone lines and the internet in the village, which is inhabited by 1500 Copts of the total 3000 inhabitants, to prevent them from getting in touch with the outside world, according to Reverend Isaac. "With all this strife, the Security wants to have grounds to issue a report confirming that this village is not suitable to have a church. We have no Church in the village and the nearest is 3 miles away, and can hardly accommodate its own congregation"
Human rights organization 'Sunshine' said that what is happening now in El-Fashn is a new trend in the violations carried out by the State Security against Coptic clergy. This trend began with the imprisonment of Father Mettaos Wahba for five years on false charges of forgery, and now an order has been issued against Father Isaac to 'apprehend and bring,' which has no legal grounds. "This is proof to the whole world that Egypt is persecuting the Copts," according to Sunshine.
During his Sunday appeal to the world through Coptic News, Reverend Isaac said "Please help us, the whole world just looks and does nothing, where is President Obama's talk about peace? All what we want is to raise our hands and worship God, equal to Muslims. We cannot take it any longer; we are ready to give up our lives, just let us pray."
During the sit-in, Bishop Estephanos said: "We will all pray. Since matters reached this stage, if necessary we will all become martyrs. Our Coptic Church has been built on the blood of martyrs."
By Mary Abdelmassih