Iraqi Delegation Meets With Australian Assyrians
Posted 2009-03-16 22:53 GMT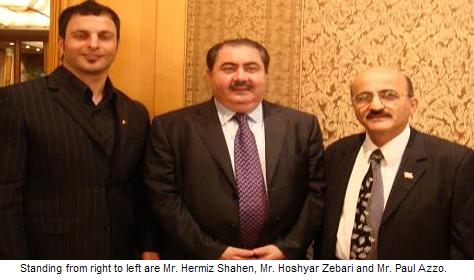 On Saturday 14 March 2009, a delegation represented by Mr. Hermiz Shahen; Deputy Secretary General of the Assyrian Universal Alliance and regional secretary of Australia and New Zealand, Mr. David M. David; President of the Assyrian Australian National Federation and Executive Member of the Assyrian Universal Alliance and Mr. Paul Azzo; member of Liberal Party and adviser to the Assyrian Universal Alliance on Governmental Issues attended a special function to the Iraqi community at Shangri-la Hotel in Sydney honouring the Iraqi leader, Prime Minister Nuri al-Maliki who arrived in Canberra on Thursday 12 March 2009
Hon. al-Maliki's speech will long be thoughtfully remembered by the attendees representing a mosaic of Iraq's society in Australia. Hon. al-Maliki called on all Iraqi intellectuals and business representatives in Australia to help shape a new future for Iraq, which he said had been devastated by the previous regime of Saddam Hussein and recently by the activities of the Al-Qaeda terrorist group. "We have to resolve all the problems we have inherited from the previous regime and also neighbouring countries," he said, and added, "We have to mend fences with the international community."
During the question and answer period, Mr. Shahen welcomed the Prime Minister and the Iraqi delegation on behalf of the Assyrian Australian community. He pointed out that since the 1930's, Assyrians in Iraq have petitioned the successive governments of Iraq for their national rights and a halt to their systematic persecution, genocide and displacement. He stated that during the tyrannic regime of Saddam Hussein more than 300 Assyrian villages and townships housing historic churches were completely destroyed and their people displaced. Mr. Shahen then asked the Prime Minister, "How long will the Assyrian issue remain pending?" and, "When will the Iraqi government address the Assyrian question and put an end to this tragic fate experienced by the Assyrians?"
The Prime Minister, in a detailed reply, promised that the government of Iraq will be working to put an end to the tragedies suffered by Iraqi ethnic populations. Mr. Shahen then presented the Prime Minister with a formal letter from the leadership of the Assyrian Universal Alliance outlining the Assyrian demands in Iraq.
Assyrian Universal Alliance, Australia Region