Kurdish Groups Behind Attacks on Assyrians in Mosul: Iraqi MP
Posted 2008-10-12 23:31 GMT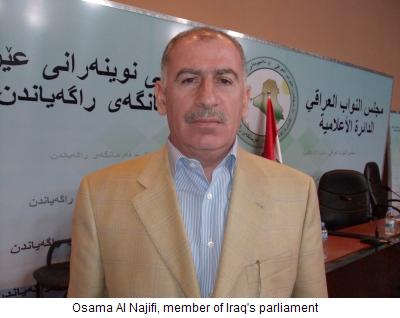 Baghdad (AINA) -- Osama Al Najifi, a member of Iraq's parliament, told the Iraqi Independent Press Agency on Sunday he holds the Iraqi government responsible for what is happening to the Assyrian Christians in Mosul, and accused the "Kurdish militias" for carrying out the acts of ethnic cleansing.
Al Najifi, a native of Mosul, claimed the Kurdish Peshmerga forces and the Kurdish Asayesh intelligence service are carrying out the attacks under the cover of the Iraqi military.
He pointed out the military forces in Mosul are completely infiltrated by the Kurdish militia. Al Najifi said the Kurds carry out the attacks against the minority groups in order to Kurdify the city and change its demographic balance.
Osama Al Najifi is a Sunni Arab and has a long record of defending the rights of the minorities in the Iraqi parliament.
He emphasized that the Kurdish parties have had de facto control over Mosul for more than one year and are trying to control the city and change its demographic identity to serve Kurdish interests.
Al Najifi also blamed the Iraqi government for being absent from Mosul, accusing the "big parliamentary groups" of making political agreements which are preventing the national government from having control over the province of Nineveh and its provincial capital Mosul.