Iraq Legal Commission Issues Statement on the Persecution of Assyrians in Baghdad
Posted 2007-05-23 15:23 GMT
(AINA) -- The High Commission of Legal Opinion in Iraq has issued a a letter concerning the on the situation of the Christian Assyrian (also known as Chaldean and Syriac) community in Dora (AINA 5-21-2007, 5-18-2007, 5-18-2007), which has come under attack from Muslim extremists in the past 30 days.
---
In the Name of Allah, the Most Beneficent, the Most Merciful
From: High Commission of Legal Opinion
Date: May 22, 2007
To: Head of the Vicar Council in Iraq
Kind greetings
We hear with sadness and distress about what is happening to our Christian brothers in Iraq. We in turn forbid the Iraqi bloodshed, regardless to its religion and belonging and we incriminate the perpetrator.
Please accept our condolences and sorrows.
With appreciation
Copy to:
1. Secretary General's Office
2. Administrative Assistant
3. Archives, for preservation
Signed
Secretary General
Grand Mufti of Iraq
Sheikh Jamal Abd Al-Kareem Al-Dabban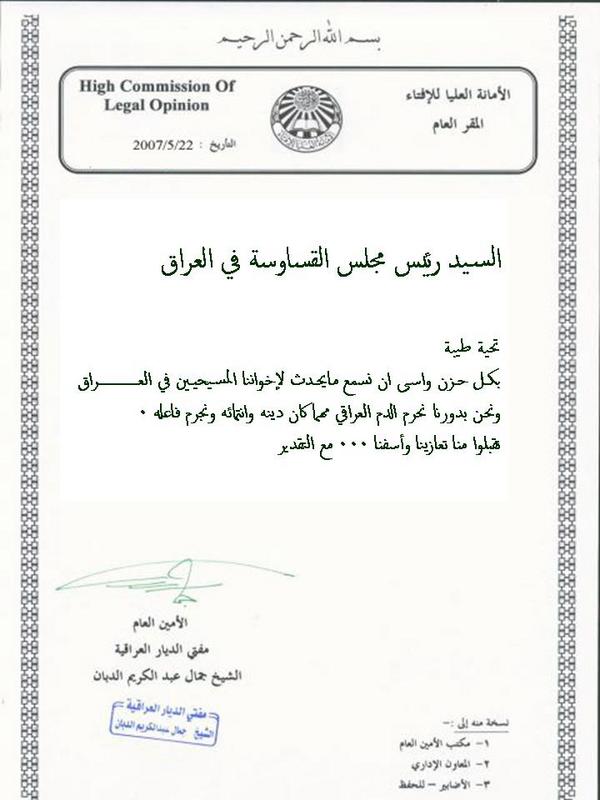 Translated by AINA