Assyrian Genocide Memorial Wall Erected in California
Posted 2007-03-07 16:26 GMT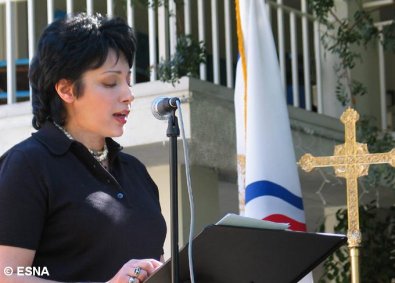 Shaded by trees, an outdoor courtyard nestled in the center of St. Mary's Parish in Tarzana, California, embodies a serene setting. A balcony on the side of the Assyrian American Christian School overlooking the courtyard below has witnessed many events both somber and joyous.
Not long ago, the tranquility of the courtyard was disturbed by heavy loads of concrete blocks, bags of cement, tiles, PVC pipes, dirt, sand, and earsplitting construction noises. A Memorial Wall was being built. An idea conceived by Father George Bet-Rasho to commemorate all the Assyrian martyrs. Though for a time, it seemed more like a big pile of mess with absolutely no end in sight.
And then the magic began. Brick by brick. Layer upon layer. Those coarse raw inanimate materials slowly metamorphosed into something that possessed the ability to touch the hearts of a small nation longing to see the resurrection of their beloved Assyria.
But how can a Wall made of mortar and concrete speak of anything that can jar the emotions?
Early Saturday morning on 17 February 2007, cloaked in giant sheets of white satin, the Wall awaited patiently to show off its splendor. Teasingly, it showed a glimpse of itself when a gentle breeze slightly parted the satin curtains it hid behind.
An old inhabitant of the courtyard that lived across from this newly erected Wall was a multitiered fountain. Enchanted, it splashed in delight applauding the day's f