Kurdish Gunmen Open Fire on Demonstrators in North Iraq
Posted 2005-08-16 16:45 GMT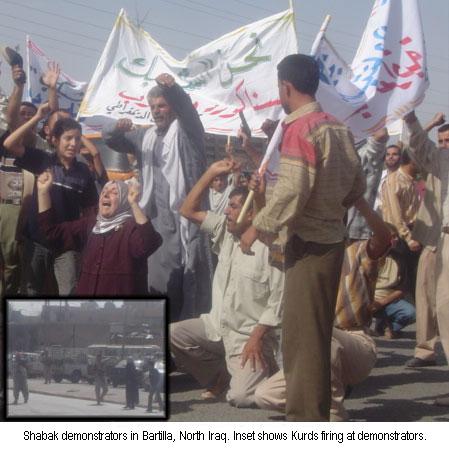 Nineveh, Iraq (AINA) -- A group of Shabak demonstrators was fired upon by Kurdish gunmen in the morning of August 15.
A demonstration organized by the Democratic Shabak Coalition was held to demand separate representation for the Shabak community. Demonstrators held signs which read "We are the Shabak, NOT Kurds and NOT Arabs" and "We ask the national Assembly to recognize the rights of the Shabak." A group of KDP gunmen (of the Kurdistan Democratic Party militia) approached the crowd and opened fire on the demonstrators, injuring several of them.
The demonstrators re-iterated their dissatisfaction and anger for being blocked -- along with ChaldoAssyrians, Yezidis, and Turkoman -- in last January's national elections. Many demonstrators were certain that members of this same KDP militia had a hand in delaying the ballot boxes in the January national elections.
Dr. Haneen Al-Qado, The Shabak representative in the Iraq National Assembly and the constitution committee, said "The public demonstration was planned by the peaceful community of Bartilla (near Mosul), 5 days ago on Wednesday and proper approval was obtained from District Mayor Abdil-Amir and from the coalition forces. The demonstration was a result of the Shabak people's awareness of the fact that the Kurds were against having the Shabak being recognized as a unique ethnic people separate from Kurds and their attempt to Kurdify the Shabaks. This is something we the Shabaks are absolutely against"
One demonstrator said "they [KDP militia gunmen] are non-governmental and have no business being here. They are not part of the Iraq military nor the security forces in charge in this area of Nineveh".
The Shabaks make up a substantial portion of the Nineveh plains population, residing in 35 villages as well as in Mosul. Evidence of Shabaks in the region exist from the 16th century and their religious beliefs contain mostly Sunni, Shiite, and some Christian elements. The Shabak's maintain close ties with the Yazidi community and many make pilgrimages to Yazidi shrines. They also have a sacred book called the "Byruk" which is written in Turkoman. Census figures do not exist for the Shabak as the previous regimes Arabization campaign did not allow it to be recognized officially.