British Topographic Maps, 1910
To see a quadrant, click below in a box.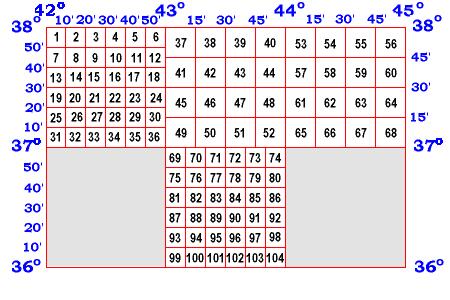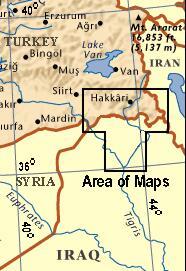 The British Topographic Maps were made in 1910, and are a valuable source of information about Assyrian villages just prior to the Turkish Genocide and expatriation of the Assyrians from their homelands in World War One.
Because these maps are highly detailed, they are very large and cannot be shown in full; they are, therefore, shown in quadrants of 10' or 15' (minutes of arc).
Click below to see very small previews of the full maps.
The full maps are available from AINA in printed and electronic form for a small fee. Contact AINA.
Points of Interest
| | |
| --- | --- |
| Point | Quadrant |
| Hakkary | 43, 44 |
| Gawar Plane | 57, 58 |
| Tergawar | 60 |
| Deir Marbishu | 59 |
| Gangachin | 55 |
| Zakho | 35 |
| Peshkhabur | 33 |
| Barwar | 49, 50 |
| Amadia | 51 |
| Upper and Lower Tyari, Tkhuma | 46, 47 |
| Jilu, Baz and Tkhuma | 48 |
| Ishtazin | 61 |
| Noohadra (Dohuk) | 69 |
| Rabban Hormiz | 75 |
| Aqra | 80 |
| Nineveh and Khorsabad | 88 |
| Tel Kepe | 87 |
| Mosul | 87, 93 |
| Ankawa | 98 |
| Nimrod | 101 |