The Ancient Assyrian Trade Tablet Monument
Posted 2023-10-28 04:28 GMT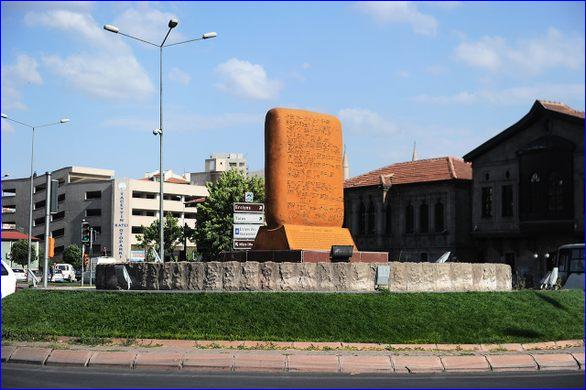 One of Turkey's many notable archaeological sites is Kültepe-Kanesh, which is located in the center of the country near the region of Kapedokya (Cappadocia). Founded around 2000 B.C., the site was the capital of the ancient Kingdom of Kanesh and was a key part of the Assyrian trade network in the Anatolian Peninsula.
The nearby provincial capital of Kayseri, which itself is thousands of years old, likes to highlight its connections to the ancient Assyrians. In particular, the Kayseri Arkeoloji Müzesi (Kayseri Archaeological Museum) has multiple Assyrian artifacts on display, including a selection of cuneiform tablets. However, the giant replica cuneiform tablet on the south side of the city center is perhaps one of the most unusual and overt attempts by the city to link itself with its Assyrian past.
Standing in the center of a roundabout within a busy intersection, the Asur Ticaret Tableti (Assyrian Trade Tablet) is a large replica of what is effectively an ancient business letter. The text, which has been translated into Turkish at the base of the tablet, provides rather lengthy and overly elaborate instructions to the letter's recipient on selling a shipment of tin and linen.
The letter itself may seem unremarkable, but it and thousands of others like it have provided useful insights into the economy and culture of the Assyrian Empire and the various nations trading with it. Thousands of clay cuneiform tablets, most of which are related to commerce, have been found at Kültepe-Kanesh. These tablets, along with other artifacts, have yielded insight into the ancient civilizations of this region. Nonetheless, it still seems unusual to have what is effectively an ancient business note on full display where Kayseri's commuters can pass by it every day.
Know Before You Go
As indicated above, the Asur Ticaret Tableti stands at the center of a roundabout on the south side of the city center at the intersections of İnönü Bulvari, Yoğunburç Caddesi, and Lalezadi Caddesi. The tablet is viewable at all times of day and is even illuminated at night. The intersection is rather busy, and no crosswalks lead directly to the tablet, so it is difficult to get close. However, it is still possible to view the table from the sidewalks at the edges of the intersection.