Singer Discovers Her Assyrian Roots in Trip to Middle East
By Bill Metcalfe Bill Metcalfe
Posted 2023-10-11 18:05 GMT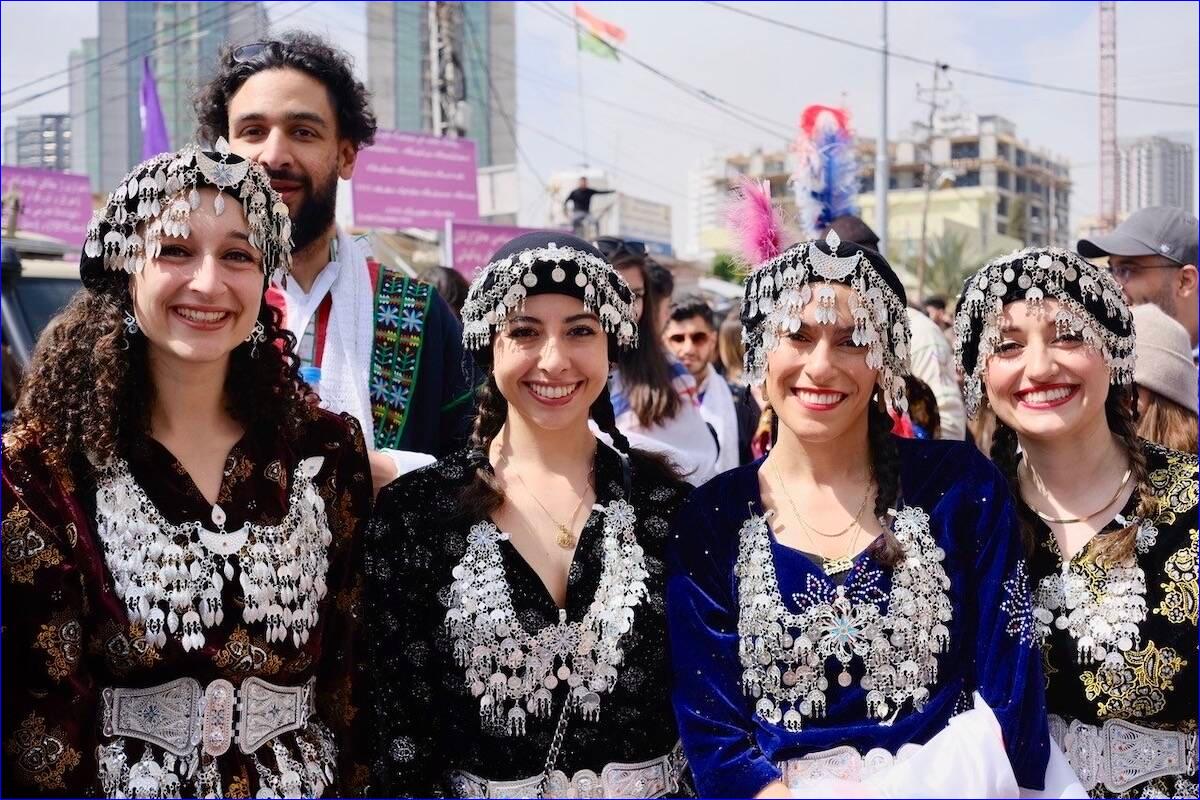 In a crowded pub in Erbil, Iraq, the Argenta singer-songwriter Tenise Marie was put on the spot.
She was part of a large group of people of Assyrian descent from all over the world, meeting for the first time. They were taking turns singing solo for the crowd, in Assyrian, without musical accompaniment.
Someone passed the mic to Tenise.
This was the first day of her journey to explore her family roots, and she was overwhelmed. She was not used to singing without guitar or keyboard, and she thought she should sing in Assyrian, out of respect for the local language she had recently begun to study.
The revellers good-naturedly brushed aside this concern and encouraged her to sing in English. She was paralyzed with uncertainty. Then a song came to mind.
In that pub in Erbil, and later on the Civic Theatre stage in Nelson in a performance that told the story of this trip, Tenise sang, unaccompanied, soulful and unhurried, a verse of Nina Simone's "I'm Feelin' Good," and brought the house down in both venues.
The experience launched a deep musical journey that has changed Tenise's approach to her music and her family heritage.
Family
Assyria is an ethnic area that is not a country in itself but an age-old mostly Christian culture existing within Iran, Iraq, Syria and Turkey, where the four countries meet. This was Tenise's first visit to her late grandmother's homeland.
"I could not have imagined the profound sense of acceptance, belonging, and kinship I would experience," she told her Nelson audience. "It was incredible to learn language and music from Assyrians who are so deeply connected with their roots."
Tenise's mother, who lives in Argenta, was adopted as a young child. When she was in her twenties, in 1982, she first met her birth mother, Esther Mamo, a Canadian Assyrian immigrant from Iraq who has since died.
Tenise never met her grandmother Esther, but in recent years she has begun to get curious about her ancestry, and she reached out to other Assyrians on Instagram. That led to many discussions and an audition for an Assyrian women's choir performance in California. There she sang with other Assyrians, some of them of mixed heritage like Tenise. Two of her Assyrian grandmother's sisters, whom she had never met, live in California, and she visited them.
"I started crying as soon as I entered the room. I really did. It was just an incredible experience. I remember looking at my great aunts, and I instantly thought, 'This is what my mom's going to look like when she's older.'"
But the experience of meeting her great aunts also moved her because she sensed she was beginning a profound personal and musical journey.
Tenise is a graduate of the Selkirk College music program and an alumna of Nelson's Corazón youth choir. She plays frequent gigs in the Kootenays, often in collaboration with other musicians, and for several years has worked on the staff of the Kaslo Jazz Etc. Festival. In 2021 she released her album Storm.
By the time of her trip to California, Tenise had already begun studying the Assyrian language, otherwise known as Suret or Chaldean. They are modern dialects of Aramaic, one of the oldest languages in the world. Assyrian is distinct from Arabic with a different alphabet.
Tenise connected with Gishru, an organization that conducts educational and humanitarian trips to reconnect Assyrians born in the diaspora with those still living in the homeland.
She applied successfully for a Canada Council grant to go to Assyria to explore her musical heritage there, and traveled to Iraq with Gishru as part of a group of 40 in March 2023.
Argenta to Atra
On her return to Canada, Tenise talked and sang about this journey in an event entitled Argenta to Atra, performed in Kaslo and in Nelson. The Nelson performance on Oct. 1 was in an intimate new venue within the Civic Theatre called Up Close at the Civic, in which the performer, audience, lighting and sound are all on the stage, with the main theatre seats empty and dark.
She told the audience about her trip with a mix of story, songs and photographs.
After her performance of Nina Simone in the Iraqi pub, the younger local Assyrians pleaded with her to sing songs by Adele and Whitney Houston. Tenise shared a laugh with her Nelson audience about this.
"I went all the way to Iraq, and all the girls just wanted to hear was Adele."
Tenise told the Nelson audience how the trip inspired changes in her music.
She has decided to incorporate a capella (without instrumental accompaniment) singing into her performances. She said that in the west, such singing is often construed as unsophisticated or amateur.
"I was especially inspired by the young children who bravely sang for us at the schools we visited. As my voice was the first instrument I connected with as a young child, it has been a gift to rediscover the pure joy and freedom of singing unaccompanied, unbridled by the confines of an instrument."
There are other confines in Western music as well, Tenise said, and questioning them has changed the way she listens to, interprets, composes and performs music.
"It has been a process of connecting with singing and with music on a very natural level, letting go of ideas about what is wrong and what is right ... Some of the most free I've ever felt making music was singing in those pubs in Iraq."
Displacement and homecoming
Assyrian music is about connection to the land, she said, which isn't surprising. Assyrians have been displaced for many reasons over the centuries, and were the victims of genocide by governments and most recently by the Islamic State. Because of this, there are more Assyrians in the diaspora worldwide than in the homeland.
Tenise sees this as a colonial erasure of language and culture, including music.
"So I've been studying Assyrian music. What I noticed is, because a lot of Assyrians cannot be in their homeland any more, they write a lot of their music to describe or honour the places that they're from."
On the stage at the Civic, Tenise sang, unaccompanied, the popular Assyrian folk song Barwar, which is the name of a region of Assyria. She sang other songs with guitar, some of them traditional and others that she composed. Some of her own songs were sung partly in Assyrian.
After returning to Argenta she faced many internal questions about her musical identity.
"Eventually, I recognized that my musical compositions are a valid expression of myself as an Assyrian and that they have a role to play in that evolution. I eventually realized that my own compositions do have a place in this world. So that was a beautiful thing."
Argenta was Tenise's childhood home and she is deeply connected to it. Yet she says having a blood connection to Assyria is an entirely distinct and profound experience.
"When I expressed sadness about going home to Canada, Assyrians would tell me, 'You are home.'"