On the Silk Road to China
Posted 2023-08-26 17:20 GMT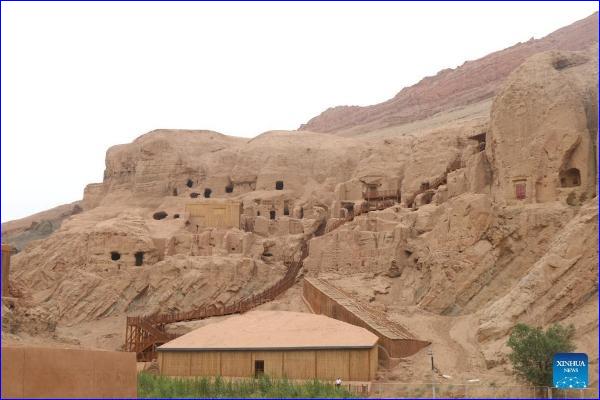 (Xinhua) -- A conference on the inheritance and development of Turfan studies has attracted over 100 domestic and foreign scholars to the city of Turpan in northwest China's Xinjiang Uygur Autonomous Region.
The sixth International Conference on Turfan Studies was held from Monday to Wednesday, during which experts shared their latest findings and visited archaeological sites.
Related: By Foot To China: Mission of The Church of the East, to 1400
Among the relics they visited was the Xipang Jingjiao monastery relics site in Turpan, also known as Turfan. Texts including Buddhist and Taoist manuscripts in Chinese and Nestorian manuscripts in Syriac had been unearthed there.
Liu Wensuo, a professor at Sun Yat-sen University, said the site is a rare early Nestorian site in China, dating back to the Tang Dynasty (618-907).
Liu's team cooperated with cultural relics institutions in Xinjiang to excavate the site in 2021 and 2023. He said the site is of high academic value, as it reflects cultural exchanges along the ancient Silk Road.
"When you walk into the site, history comes to life to you," said Erica Hunter, a University of Cambridge scholar. She shared her research on the Syriac manuscripts discovered at the site, and explained the site's religious and economic functions. "I learned so much from the Chinese scholars. The richness of cultures in Turpan means a lot to China and the world."
Turfan studies are interdisciplinary studies of Turpan's cultural heritage, and have attracted significant attention in the international academic community. Over the past century, experts and scholars of classic philology, archaeology, history, linguistics, paleontology and other fields from around the world have contributed to Turfan studies.
Scholars attending the conference also visited the Tuyoq Buddhist Grottoes in Turpan's Shanshan County, which can be traced back to the fifth century. The Institute of Archaeology of the Chinese Academy of Social Sciences (CASS) and Academia Turfanica conducted new excavations earlier this year.
Xia Lidong, a researcher at CASS who was involved in the excavations, said that artifacts such as Buddha statues, Buddhist scriptures, Chinese ink brushes, inkstones and textiles were unearthed from the site. He said the murals in the grottoes had many features seen in grottoes found in Gansu Province and other parts of Xinjiang.
"The interactions, exchanges and integration of multiple cultures are reflected in the Tuyoq Buddhist Grottoes," Xia said.
Zhang Liangren, a professor at Nanjing University's School of History, said that thanks to Turpan's dry natural conditions, ancient clothing, food, utensils and other artifacts have been well preserved, offering clues for studies of the ancient Silk Road.