Art As a Bridge for Two Cultures
By Sabra Stafford
Posted 2023-03-29 06:19 GMT
In a very literal sense clay acts as a cohesive property that binds the soil together. Figuratively, clay will be the binding agent of two cultures coming together for a shared artistic project and the artist molding it all together is Turlock's Esther Elia.
Elia is organizing Native Soil, an indigenous exchange project that will bring Indigenous Americans from New Mexico to work with Assyrians in Iraq. Together, the two ancient cultures will share their processes on forming clay and the creations that come from it.
"Both Native Americans and Assyrians know the importance of our respective native soils and what a fight it has been to retain the little access to today," Elia said. "In this project we're focusing on the element of clay, which is literal pieces of the land that when water is added, becomes a material that can create art, cookware, housing structures and storage vessels.
"Our native soil then becomes a tool for sustaining our livelihood and presence on our land," Elia said.
Elia had become quite familiar with the process Indigenous Americans used in making and working with clay while working on her Masters of Fine Arts degree at the University of New Mexico in Albuquerque.
"Potter Clarence Cruz is Pueblo and teaches Pueblo Pottery," Elia said. "He took us through the whole process of harvesting clay in the methods that were passed down to him by his family members and has been passed down through generations. We prayed over the land and then harvested and then filled it back in and said a prayer of healing for the land."
At the same time she was delving more and more into her own Assyrian roots and learning her family history and was struck by the shared experiences of these two cultures.
"He encouraged us all to go into our own identifies and histories and make something from our own culture with the clay," Elia said. "I started researching Assyrian pottery methods and pottery in general and came up with a project in which I made bowls and wrote in prayers from the Assyrian nation on them that I was collecting from the Assyrian diaspora worldwide."
It wasn't long after this experience that Elia made her first foray to Iraq. Known as a Gishru, it is something that can't quite be summarized as a trip. In the broadest of terms it is a chance for Assyrians living in the diaspora to connect and build bonds with Assyrians in their ancestral homeland and through those bonds strengthen the Assyrian identity.
"It is a word that means bridge," Elia explained. "They're building bridges with Assyrians born in diaspora with the Assyrians in the homeland. I got to go to Assyrian villages and meet the people and see the places that had just been stories to me."
It was on this journey that Elia noticed all the good clay soil in the region and the idea of the cultural exchange started taking form in her mind.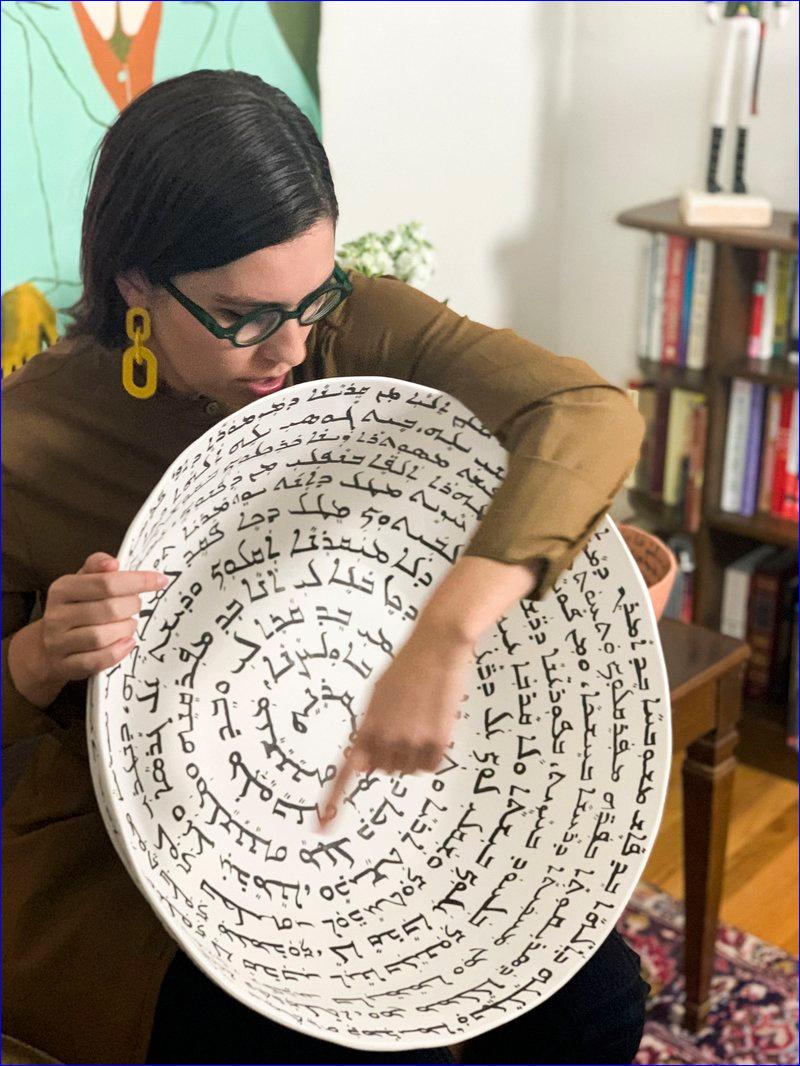 "Because of the class I had taken, I started recognizing that clay was in the landscape all around us," Elia said. "I confirmed with the Assyrians there that it was clay and they were like, 'yeah there's clay everywhere around here.' They told me about a very elderly man that still harvests it by hand. That process has gotten less popular over the years because it takes time and you can just buy it. But he's still doing it and he's passing it down to his son. It was a surreal moment to learn my own indigenous culture had this practice of harvesting clay by hand.
"When I returned to New Mexico, I told Mr. Cruz about it and offhandedly asked if he would ever consider going to Iraq and he said yes. It grew from there."
The Assyrian diaspora has been a fundamental theme in much of Elia's artwork.
"It has focused in the past on the refugee experience, and has shifted more recently to trying to document the pursuit of safety," Elia said. "My past work started from collecting oral histories from Assyrian family members stemming from the 1915 Armenian, Assyrian, Greek Genocide, and is committed to adding to a burgeoning movement of contemporary Assyrian art."
Elia grew up in Turlock and graduated from Pitman High School. From a very young age she had a creative streak that manifested itself in one form or another. She started playing violin at a young age and believed her path was through music. But life was about to show her a different path.
Elia sustained an injury to her wrist during a high school volleyball game and it never healed to the point that she could comfortably play the violin again.
"I had wanted to go to conservatory, so when this injury wouldn't go away, it took me some time to let go of that idea," she said.
Feeling unmoored from her dreams, Elia wasn't sure what her future might hold but luckily her brother had been paying attention.
"I was having a conversation with my brother and I'm being a typical teenager thinking that my life is over and there was nothing else that I was good at," Elia recounted. "He was like, 'you might want to consider going to art school.' That made no sense to me but then he drew my attention to the fact that I had been drawing through the whole conversation. I just took it for granted that I always had a sketchbook with me and that I was constantly drawing. It was actually shocking to discover that I might have one other thing I could pursue."
She took his advice and enrolled at the California College of the Arts, where she earned her Bachelor of Fine Arts.
Elia will be joining a team of Indigenous American artists and professors for the trip in June. They will be showing their own processes of harvesting and using clay and then learning the process the Assyrians use. Elia has high hopes it will lead to a series of visits between the two cultures.
A GoFundMe account has been set up to help with the expenses for the exchange. Donations can be made at https://www.gofundme.com/f/native-soilassyriannative-american-clay-project.