Puerto Rican-Assyrian Humor
Posted 2017-05-03 21:46 GMT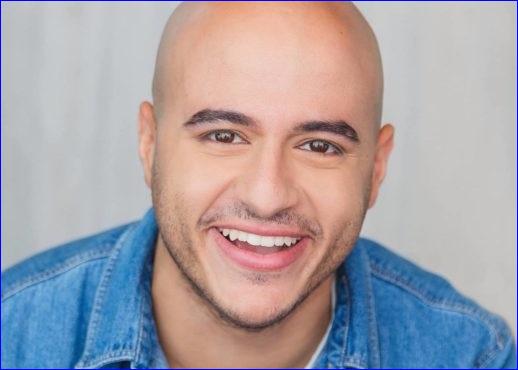 Yes. Assyrian. Not Syrian.
Assyria was an empire of ancient Mesopotamia (modern day Iraq, Kuwait, southeast Turkey, southwest Iran and northeast Syria), which existed as early as 25th century B.C. And at its height, Assyria was the hub for technological, scientific and cultural achievements.
After many battles, the empire eventually fell and was succeeded by the Median Empire. The Assyrian people gradually became the minority in the Middle East, but nonetheless, remained resilient and steadfast in preserving their culture and history.
Marked by catastrophic events, including the Assyrian genocide during World War I and targeted attacks by Islamist militants in current day Iraq and Syria, the plight of Assyrians ride under the radar of mainstream media, so I'm happy to be sharing the journey of a proud descendent -- Jessie Prez.
The only child born to a then-18-year-old teen mom, Jessie entered the world immediately enshrined by Assyrian culture. And on his Puerto Rican side, his father was unfortunately absent from the picture.
By Jessie's mid-20s, theatre not only became his saving grace, but allowed the Latino culture to permeate his heart. Check out his demo reel below.
The Prez Migration to the U.S.:
From Damascus, Syria, Jessie's uncle, David, was the first to immigrate to America in the 1960s. He fell in love and got married to a German/English-American, and started building a family.
As a laborer with an entrepreneurial spirit, Uncle David would go on to buy a 6-floor building on the North Side of Chicago's Albany Park. Unlike most landlords, his plan did not include renting the flats out to strangers. Instead, family was his only aim. So throughout the years, Uncle David reached back home to Damascus and brought his brothers, including their families, of which 1 was Jessie's mom.
Just imagine -- 6 floors filled with immigrants and the determination to 'make it' in America!
Latinos and African-Americans comprised the ethnicities of his neighborhood and schools, yet Jessie's internal identity was ambiguous.
"Growing up in that neighborhood was a little hard...I was more Middle Eastern, but my last name wasn't. I would tell people that I was Puerto Rican and Assyrian, then they'd ask, 'Do you speak Spanish?" When I'd say 'No,' their response was 'You ain't Puerto Rican. You're Jafar from Aladdin.' Stuff like that."
In the home front, "Even though I didn't have my father growing up, his sisters and brothers wanted to be in my life. So I would see them, my cousins, and dad's brothers during holidays and over the summer. I was so used to being around all my Assyrian aunts, and I had never really identified with my Puerto Rican side, so it was weird because I really didn't feel comfortable."
Jessie always knew that he was mixed with Puerto Rican, but it would take comedy and theatre to bring his Latino culture up and out.
"It started from bullying. Telling jokes and making people laugh...The way I looked at it: instead of people laughing at me because they're making the jokes, I'd rather have them laugh with me because I'm making the jokes."
This dark world of comedy led Jessie to join the improv club during freshman, junior, and senior year in high school; but he never viewed it as a possible career. "That's not how my family was brought up. My family was brought up hustling, finding a husband or wife, having kids and living that life. The American Dream"
And that was his trajectory -- settling for a Teller Manager job at a bank and on the verge of making his 4-year relationship permanent. "'I think I'm going to marry this girl, get a place with her, have kids, that's it.' Monday through Saturday, Sundays off...At 24, I was already feeling tired."
Life on repeat everyday, Jessie constantly thought back to improv, how good he was at it, and how it made him feel. And upon these reflections, he decided to quit his job and pursue a career that he once thought was impossible. "The girlfriend didn't like that so we broke up...At first my mom didn't like that. She kept saying, 'It's not a job. You're not going to have money.' But I just didn't care. I gave myself a year plan: take acting classes for the first 6 months. And after that, network and start auditioning. Luckily, that's exactly what happened."
After concluding his 8-week acting class, he was introduced to an agent, auditioned for a TV show and booked it. On that set, he met Ricardo Gutierrez. "He saw my last name and asked, 'Are you Latino?' I said 'Yea, I'm Puerto Rican.'
As their friendship grew, Ricardo invited Jessie to audition for a play at Teatro Vista -- the largest Latino theater company in the Midwest, and where Ricardo serves as the Executive Artistic Director. Jessie booked it and became involved with the company and its tight-knit Latino community. Like clockwork, Jessie continued to book shows that always included Latinos.
Opening nights, closing nights, meetings, parties, and charity benefits -- all surrounded by Puerto Ricans, Mexicans, Salvadorians, South Americans. In addition, house functions became the norm: eating authentic Latin dishes; listening to salsa music, bachata and meringue; dancing and clapping to Ricardo's guitar tunes. "I thought, 'Whoaaa! This is what I've missed for 25 years?' For the first time, I started to feel Latino."
In no way, shape or form did this experience take away from Jessie's feelings towards his Assyrian side. When it comes to family and amazing food, he admits that the two cultures nail it.
Jessie would go on to book a national commercial that gave him a nest egg and placed him on a fast track to California a few years later. But he knew that leaving his mother would be tough. "My mother is my backbone and everything I want to be. I want to be a hard worker and love my family like she loves her family. I want to raise kids the way she raised me."
With this loving insight into their relationship, there's no surprise that she was in denial that her son was moving to the West Coast. Once reality kicked in, "She was excited and proud of me. For the first time in our family, I'm the one that's taking the leap of faith to try and pursue my dream."
It's been 6 months since Jessie started a new life in the entertainment capital of the world. The saturated market has propelled Jessie to fight even harder and has opened his mind to more possibilities. Acting on film and TV are on the table, and so is standup comedy. As a result, auditioning, open mics, writing, and meeting with a team of friends once a week to create sketch comedies, is now routine. Jessie's ultimate goal is to produce and star in his own single cam sitcom about his Assyrian family, akin to his favorite show, Black-ish.
Today, "If you were to see a split screen between the person I was 6 years ago and who I am now -- completely different person! I thank the universe everyday because theatre literally changed my life."
His advice to someone who may be struggling with their cultural identity:
"Join a group or club of some sort: a music class, art class, improv.
For example: when I joined that improv club in high school, granted I didn't know who I was, meeting different people -- Latinos, African-Americans, Muslims -- opened my world to know that everybody is the same...And Teatro Vista changed my life because the group really opened my eyes to who I was."
His advice to his 16-year-old self:
"As cliché as it sounds, don't be afraid to be yourself."