Youth in India Learn Dying Language, Preserve It
By Mebin John
Posted 2016-05-09 06:07 GMT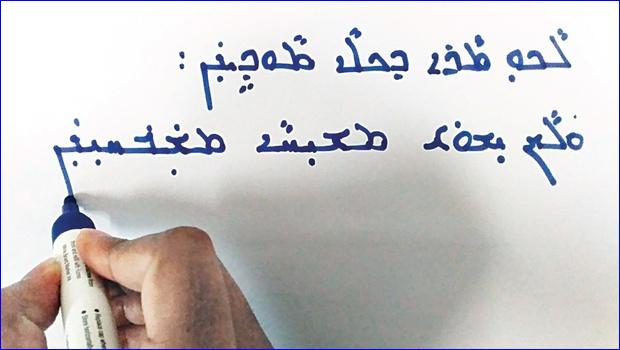 Bengaluru, India -- Youngsters in the city are trying to preserve a language that survives only among a small community near Kurdisthan, Iraq -- Syriac.
Many belonging to the ancient Syro-Malabar Catholic Church of India study East Syriac under Rev Thomas Kalayil, a well-known scholar at Bengaluru's Dharmaram College.
City Express speaks to some about their interest in keeping the language alive.
"Every religion has its own sacred language -- Arabic for Islam and Sanskrit for Hinduism, and Syriac, the language spoken by Jesus Christ, for Indian St Thomas Christians," says Rev Varghese Pathikulangara, renowned historian and liturgist at Dharmaram College.
Jiss Palelil, final year economics student at Christ University, first came across Syriac while in high school.
"Since then, I have been passionate about learning this language, now on the verge of extinction," he says.
Another group is passionate about West Syriac, being used by the churches following Antiochian Liturgy. Its members learn the language through WhatsApp groups.
"Most of our ancient records and books are in Syriac. So it is essential that we preserve the language," says Renjith K R, an electrical engineer.
Most churches have replaced Syriac with Malayalam or other vernaculars, and the language, which thrived in India -- especially Kerala -- for centuries is now facing the threat of extinction.
"When I was a child, I used to hear Syriac prayers on feast days. Even though I didn't know what they sang, it gave me the impression it was something special," says techie Joju Jacob.
Later, when one of his friends was getting married, his wedding invitation had a Bible quote in Syriac. "That's when I decided I would also do something similar, reflect my tradition, and started learning Syriac," he says.
Another techie Namitha Susan Jolly thought it interesting that around 20 centuries ago, Aramaic or its dialect Syriac was the language of international trade.
"Perhaps, it enjoyed the status English does today," says Nimitha, also persevering to preserve the language.
Rahul Payyappilly, Technical Lead at Capgemini, is keen on pursuing Syriac because it 'reached the Malabar Coast around 2,000 years ago, before the origin of my mother tongue, Malayalam'.
"My ancestors used to write Malayalam in a special Syriac-Malayalam or Karshoni script," he says. "According to some linguists, even the Malayalam term 'amma', meaning mother, was borrowed from the East Syriac term 'emma', also 'mother'," he says.
Origin of the Tongue
Suriyani or Syriac, a dialect of Aramaic, was the language widely used in the Middle East until the eigth century, before Arabic replaced it. Syriac came to India centuries ago -- an edict found from King Ashoka's time has been engraved in Syriac.
It was widely used by the St Thomas Christians of India. Even today, it is the liturgical language in some of the country's churches, where parts the liturgy are sung in Syriac.
East Syriac and West Syriac are its two dialects. They differ in script, vowel system and pronunciation, but both dialects have a similar vocabulary and grammatical structure.
Syriac lost its patronage after the Portuguese Roman Catholic invasion of the churches of India, when the Roman Catholicism and Latin liturgy was imposed on St Thomas Christians.