A Chaldean American Success Story
By Manny Cruz
Posted 2014-07-08 05:44 GMT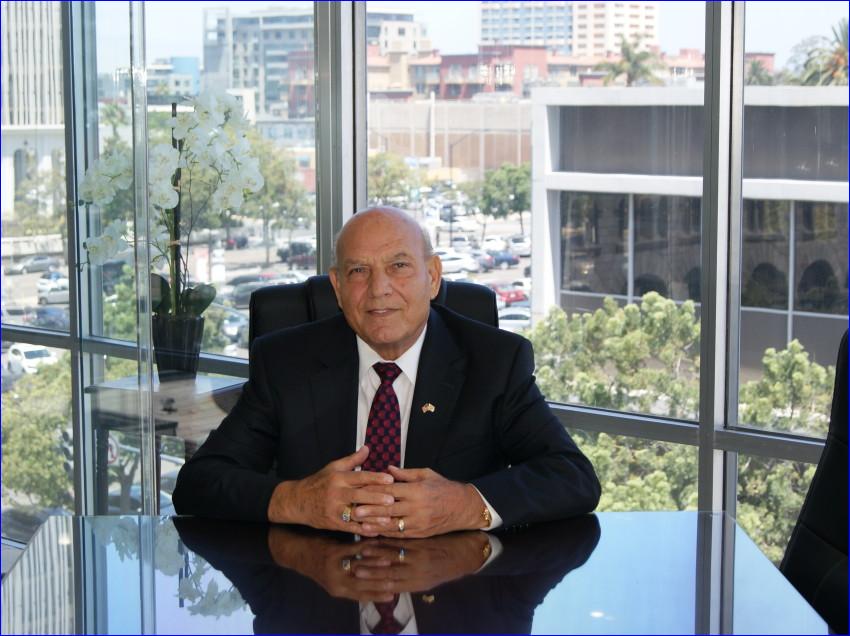 San Diego -- Sabri Shamoun, a 74-year-old Chaldean American, grew the earnings from a small grocery store in Detroit into a profitable real estate venture in San Diego that has made him millions and secured the financial futures of his family and many others through his generosity.
Shamoun's real estate holdings, assembled by him since moving here from Detroit in 1972, include commercial and residential properties around San Diego County, from Normal Heights to Chula Vista to El Cajon and beyond.
He is a gregarious man, but not one to boast about his earnings, though one can properly say that he is a self-made millionaire. Through a keen knowledge of real estate, he has been able to multiply the value of his holdings many times over, as in the case, for example, of property he purchased on Adams Avenue for $50,000 some years ago, which is now worth $700,000.
"I have connections with four or five good real estate people," Shamoun said during an interview in the Downtown office of RJS LAW, a firm owned by Ronson J. Shamoun, one of his sons, and where he serves as a consultant. "They know me very well. I am honest and straight. But I told them, 'I just want a good deal. If it is not a good deal, don't call me.'"
A devout Chaldean Catholic, Shamoun speaks forcefully about the things that matter most to him -- family, his Christian heritage and the importance of education for immigrants like him who want to make a productive life for themselves in the United States, and to help others when they can.
Search for Freedom
"I saw freedom and a better way of living," says Shamoun, who came to the United States -- to Detroit -- in 1961, like thousands of other Chaldeans who left Iraq for economic reasons or to escape religious persecution from the Muslim majority in the Middle East.
He would later be lured to San Diego, home to one of the largest Chaldean American communities in the United States. According to the U.S. State Department, Chaldeans have become the fastest-growing refugee community in San Diego. Shamoun lives in El Cajon, a city with a sizeable Chaldean population.
Shamoun grew up in the town of Telkaif, one of several Christian towns in the northern Iraq province of Mosul, near the ruins of the ancient city of Nineveh. According to the late historian Mary C. Sengstock, some of the earliest members of Detroit's Chaldean American community recall hearing stories from their grandparents about the conversion of their town to Catholicism. This happened about 1830, when the town recognized the Pontiff as the head of the church.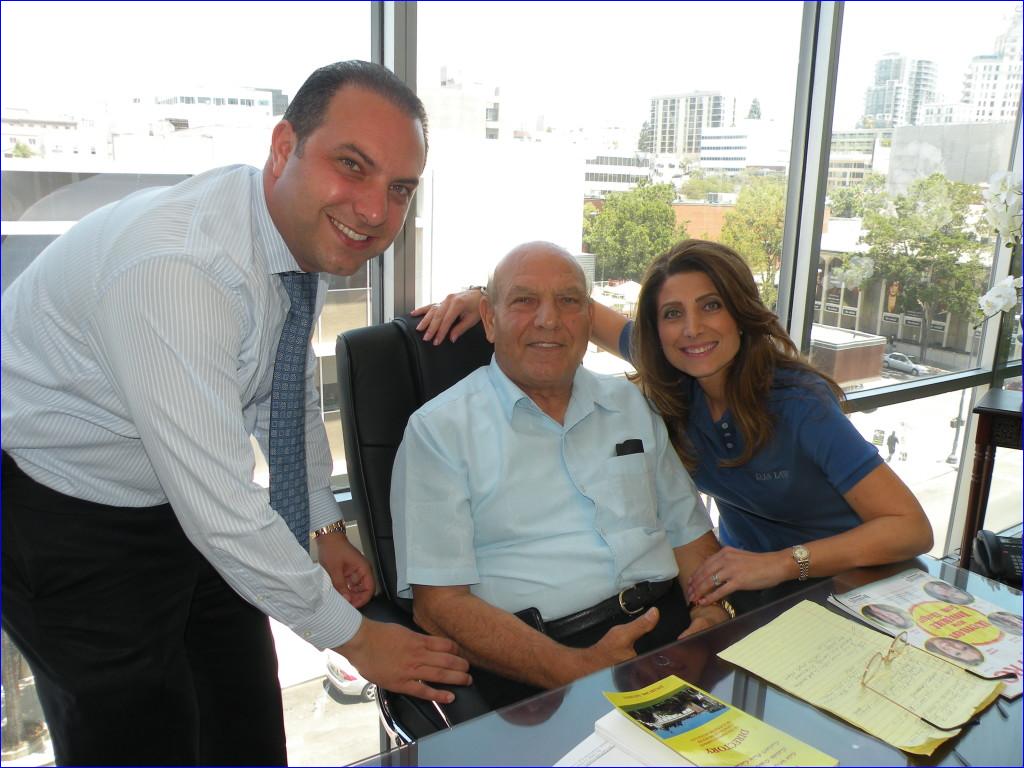 "Chaldeans are from the Arab world, but they are not Arab," Martin Manna, executive director of Detroit's Chaldean American Chamber of Commerce, said in a 2011 interview. They are defined by their language, Aramaic, which is the language of Christ.
Moving to Baghdad, then Detroit
Shamoun says he finished his second year of high school in Telkaif and moved to Baghdad in 1955 to complete his high school education. He stayed for five years. But like many other Chaldeans in Iraq, he desperately wanted to make a new life in a new country. He set his sights on Detroit, obtaining a student visa from the U.S. Consulate and emigrating to Detroit in 1961 to live with an aunt and uncle. He had $35 in his pocket. According to historian Sengstock, more than 95 percent of Chaldeans in Detroit can trace their origin to a single town -- Telkaif, where Shamoun grew up.
In Detroit, Shamoun attended the Wolverine School of Automotive Repair. "I stayed there for six months and learned the basics of car repair, then went to college at Dearborn for a year," he says. "But I couldn't make it because I was poor in language and was not strong financially to pay tuition. And I had to work and help my parents in the old country, so I had to quit."
Because selling is part of the heritage of Chaldeans -- a heritage that goes back to ancient times -- it is not surprising that many of the supermarkets in Detroit are owned by Chaldeans. It was not difficult for Shamoun to get work as a cashier and stock boy at a market, working 40 hours a week and getting paid $25 a week, a decent wage for a new worker at that time.
"After one month my boss gave me an apartment above the store to watch the store, and he saw that I was a hard worker and honest," says Shamoun. "And he said, 'You can live upstairs and watch the store at night in case somebody breaks in.' I told him, 'OK,' and so I lived there rent-free and I worked there for a little over a year and then I found another (grocery) job that gave me $55 a week."
Moving Up
For the next few years, Shamoun traded up in the grocery store business to earn bigger paychecks -- enough to be able to buy a car and new clothes.
His first business venture came soon after, when he was able to purchase a small store in Detroit -- the Hot Spot Market -- by taking a loan from his latest boss and making deals with merchandise suppliers. Shamoun said he ended up investing $16,000 in the business. He "cleaned it up and organized it," resulting in a 30 percent to 40 percent increase in business and revenues of $50,000 at the end of the first year.
Shamoun's business success gave him the opportunity to bring many of his family members to the U.S. from Iraq -- first his mother and father, then his six siblings, then cousins -- a total of about 70 relatives from both sides of the family. He was, in a way, a one-man immigration agency. He purchased a two-story, five-bedroom house in Detroit to house those that came over. "Each family lived in that house for one month, two months, three months, some up to six months, until they got established, sent their kids to school and the father started working," says Shamoun. Then they would leave and others would follow.
Shamoun says the Immigration and Naturalization Service put a stop to all of that. "I received a letter from Immigration ... they said, 'Mr. Shamoun, you are so nice and generous and you have been having affidavits of support for so many people, but that's it -- no more. You cannot support more people. This is the last affidavit we're going to accept.' Then I stopped. After bringing over 70 people."
Settling In San Diego
The Detroit riots of 1967 put an end to Shamoun's business ventures there.
Although his store was not burned-- it was protected by community members living above the store -- it was badly looted and he found it difficult to continue. He had come to San Diego on vacation earlier, and decided to relocate. "I saw San Diego, the nice weather, the freedom and I said, 'That's it, I'm going.'" Interestingly, the Detroit riots triggered a large increase in the number of Chaldean-owned grocery stores in the city. Many store owners left the area, increasing the opportunity for Chaldeans to open or acquire more stores.
In 1968, Shamoun wed his wife Mary, who is from the city of Kirkuk, Iraq, and four years later settled in San Diego after selling his house and grocery store. He said he had assets of about $500,000 at that time, which was enough to get him started in the assembling of all the property that he now owns.
The first acquisition here was the Day & Night Market in Ocean Beach, purchased by Shamoun and his brother-in-law. They worked at the store for five years and purchased another market until Shamoun got tired of the business's toll on his family life (he and his wife have three children). That's when he started investing in real estate.
Real Estate Holdings
Today, Shamoun's real estate holdings include several residential rental properties and a number of commercial properties that are leased to a variety of small business tenants -- restaurants, dry cleaners, hair salons -- 15 properties in total. "I got my education from real estate seminars, financial seminars, management seminars and the local newspaper-- I never missed one. I picked up all of my education from those free seminars," he says.
Shamoun is most proud of the fact that his success has allowed him to support his family in many financial ways and to help others in the community. He put his daughter, Renae Arabo, 45, and son Ronson, 38, through college, paying all of their tuition and fees at the University of San Diego, where they obtained degrees. Renae is the chief marketing officer at RJS LAW and chairwoman of the San Diego East County Chamber of Commerce.Another son, Robert Shamoun, 43, is the owner of the Quick Stop Market in Ocean Beach, courtesy of his father.
"We did not have any debt out of college," says Renae. "He put me through college and Ronnie through college and was a pillar of support and encouragement for my daughter (Larissa) who just graduated from the University of San Diego -- all because of this man." Larissa now works at RJS LAW as a staff accountant.
Shamoun's seven other grandchildren, he says, also will be financially secure. "Whatever they want, I promise them, Grandpa will take care of you, just be good and go to school."
"I have four sisters and two brothers," says Shamoun. "I helped all of them in school, marriage and business as much as I could."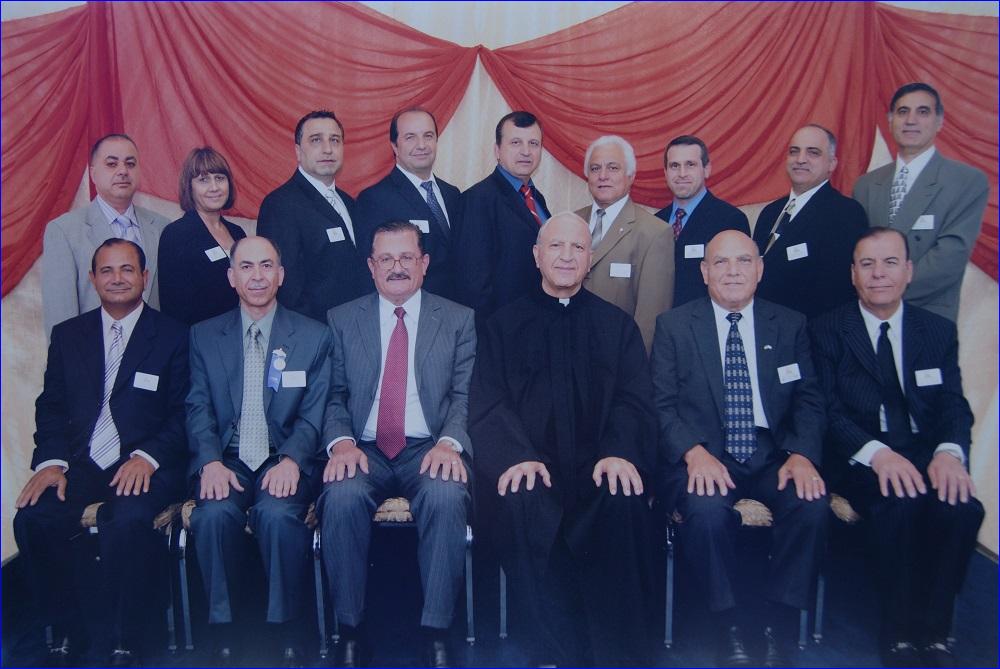 Contributing to the Community
Beyond that, though, is Shamoun's large role in the construction of the St. Peter Catholic Cathedral Church and the St. Peter Educational Center on five acres of land in El Cajon -- his way of contributing to the community.
The establishment of the church was done through a chapter of the Knights of Columbus that Shamoun and three other Chaldean Americans founded (Among them, former state Sen. Wadie Deddeh.) The educational center, which came later, was built at a cost of $1 million. It has between 600 and 800 students and teaches the Catholic religion. Funding for the projects came from a combination of loans and donations. The money not only paid for the construction, but the cost of bringing in two priests and building a home for them. The church has since grown to 10 priests serving the community, with Shamoun himself having served on the Parish Council for the past 30 years.
Shamoun has a simple explanation for his generosity: "I am a Chaldean Catholic, a Christian. I am a good Catholic. I believe in God."