Biblical Languages Expert Leaves Legacy of Student Mentorship
By Patricia Spangler
Posted 2014-01-31 20:21 GMT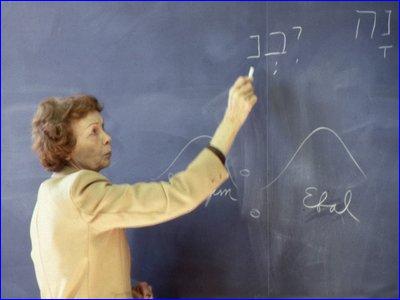 Leona Running, who was the first female professor at the Seventh-day Adventist Theological Seminary, where she served for nearly six decades, and was an expert in biblical languages, died on January 22. She was 97.
Colleague William Shea said he estimated that Running assisted more students in writing doctoral dissertations than any other faculty member. "She has probably touched the educational lives of more Seventh-day Adventist ministers than any other woman except [Adventist Church co-founder] Ellen White," he said.
Running began working for the seminary at its location in Takoma Park, Maryland, in 1955, teaching Greek and Hebrew. At the time, the president of the seminary was skeptical about a woman's ability to teach male students, and male students' willingness to be taught by a woman. She began teaching on a trial basis, but in 1956 she was granted regular status and, shortly after, full tenure.
Running was the first Adventist woman to earn a doctorate in Ancient Near Eastern Studies, earning the degree from Johns Hopkins University in 1964. Throughout her career she taught nearly 10 languages, including Syriac, Egyptian, Akkadian, Hebrew, Aramaic and Greek. In 1981 she was appointed as the first female president of the Chicago Society of Biblical Research, a post she held for a year.
"Dr. Running holds a special place in the hearts of her Old Testament and Seminary colleagues and former students, who greatly appreciated her mentoring during their Seminary years," said Ji?i Moskala, dean of the Seventh-day Adventist Theological Seminary, which is now located at Andrews University in Berrien Springs, Michigan.
Leona Rachel Glidden was born in 1916 in Flint, Michigan, and graduated from Adelphian Academy in Holly, Michigan. She then attended what is now Andrews University--then Emmanuel Missionary College--and graduated as valedictorian in 1937 with a bachelor's degree in modern languages.
In 1942 she married her husband Leif "Bud" Running. He died four years later at the age of 37 while undergoing his third lung operation.
"She overcame the grief of losing her husband early in life and built her exemplary academic and professional calling," said Niels-Erik Andreasen, president of Andrews University. "Dr. Running broke new ground in the University and in the Seventh-day Adventist Church."
During her early professional years, Running served the Adventist Church from 1944 to 1948 in the Foreign Language Division of the Voice of Prophecy radio program, translating programs and typing scripts in German, Spanish and Portuguese. In 1950 she moved to Washington, D.C. to become the copy editor for Ministry magazine.
In 1955 she graduated with a master's degree in Greek and Hebrew from the Adventist Theological Seminary.
Running also traveled extensively. In 1951, she traveled with Adventist singer Del Delker to the Paris Youth Congress and to seven countries in Europe. She later recounted the trip in the book "36 Days and a Dream." In 1957, she joined seminary professor Siegfried Horn's first guided study tour to Europe and the Middle East. She wrote another travelogue of this trip, published in 1958 as "From Thames to Tigris." In the 1960s and 70s she traveled throughout Europe, Israel, Iran, Cyprus, and taught a summer session at Newbold College in England.
Running collected articles, journals and books on women in ministry. She donated the collection to the Center for Adventist Research in the James White Library. The most notable of her multiple publications is "William Foxwell Albright: A Twentieth-Century Genius," published by Morgan Press in 1975, a 436-page biography on the "Dean of Biblical Archaeologists."
Running retired from teaching at age 65, but for 21 years she continued to teach Egyptian, Akkadian and Syriac in the seminary, finally quitting in May of 2002. Andrews University awarded her an honorary Doctor of Humane Letters at its May 2012 commencement ceremony.