Olympia Food Truck Connects Assyrian Cuisine, Tradition
By Craig Sailor
Posted 2013-05-10 04:02 GMT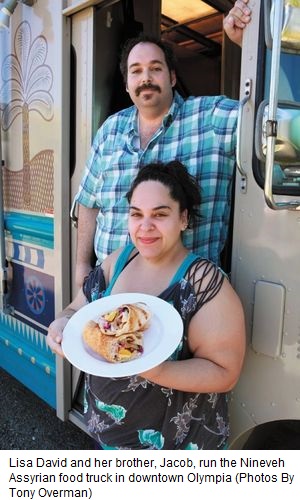 At the intersection of Plum Street and Fourth Avenue in Olympia sits a collection of small restaurants and food trucks. They offer coffee, sandwiches, cupcakes, tacos and Assyrian food.
Assyrian food?
Nineveh Assyrian food truck owner Lisa David is used to the puzzled looks and questions: " 'Is that like Syrian? What's shawarma?' I tell them it's Middle Eastern," she said. "We get a lot of people from (Joint Base Lewis-McChord) who spent time in Iraq. 'We hung out with Assyrians in Mosul,' they'll tell me."
Assyria, the empire, may be long gone. But its descendants still maintain the culture and traditions. For David and her brother Jacob, one of those traditions is food.
Their culture is rich in history and food. But the pair can only make a fraction of what they want to in the confined space of their mobile restaurant.
"This is our interpretation of Assyrian street food based on how we grew up," Jacob said.
The recipes from which they cook have been passed down from generation to generation in the David family. Assyrians are no different from most cultures in that respect -- food is intertwined with history and homeland.
Modern Assyrians, who follow the Christian faith, make up small pockets in Iraq, Syria, Turkey and Iran. They are what's left of the once vast and formidable Assyrian empire that spanned from about 1,800 B.C. to 600 B.C.
The Davids' father, Sargis, was born in Iran but immigrated to Baghdad with his parents as an infant. In 1964, he came to Chicago and eventually settled in Toledo, Ohio, where he opened a sub shop and deli that he still operates. Mother Jacqueline is a second-generation American of Polish and Russian Jewish ethnicity.
Lisa came to Olympia to study ceramics and printmaking at The Evergreen State College in the late 1990s. She teaches ceramics part time at the Olympia Regional Learning Academy.
The siblings bought the used food truck in April 2011 in Michigan. Jacob and a friend drove it to Olympia, and it went into operation in October of that year after retrofitting.
The Davids take pride in their truck's appearance. Assyrian motifs on the truck were designed by Seattle graphic artist Julia Bork and painted by sign painters Ira Coyne of Olympia and Japhy Witte of Seattle. Coyne's work, including the truck, is featured in a new book "Sign Painters."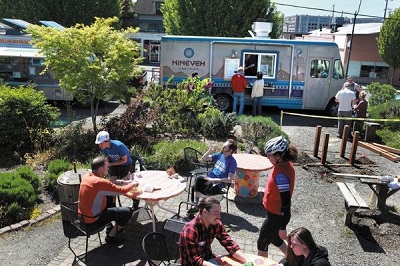 The truck attracts a wide variety of customers -- including the occasional Assyrian.
"All Assyrians know each other," Jacob said. "There are so few of us."
"There are few degrees of separation," Lisa said.
She told the story of an Iraqi-born Assyrian who recently dropped by the truck. After a few questions and phone calls, the man realized he had gone to school with Sargis David in Baghdad.
Those Assyrian connections led to Lisa being featured on Chicago-based "Assyrian Kitchen" -- an online forum with cooking videos and recipes. The site caters to the wider Assyrian community and those interested in Assyrian cuisine.
Lisa and Jacob worked in their father's restaurant and sold flavored vinegars, mustard and hot sauce at a Toledo farmers market as teens. Lisa cooked at Quality Burrito, a downtown Olympia restaurant and lounge, before opening the food truck. She still tends bar at Quality Burrito.
There are many traditions associated with Assyrian food culture, the siblings say. One involves a yearly feast of lamb to honor each village's patron saint. Another is built around a yogurt soup called booshala, which is made and eaten while singing a particular song. Another food, mergimmeh (lentil and cracked wheat patties), is consumed during Lent.
Assyrian home meals typically involve seasoned stewed meat with rice, a cracked wheat side dish, a side of greens and pickled vegetables.
Popular Assyrian street food frequently takes the form of shawarma -- thinly sliced seasoned meat stacked on a rotating skewer that cooks in front of a vertical grill. The meat is then sliced off vertically and quickly grilled before being rolled in a pita with sauce and vegetables.
Unlike some Middle Eastern eateries, the Davids eschew pre-made ground meat cones, or gyroloaf, and make their own shawarma from slices of beef, lamb and chicken.
For seasoning the shawarma, Lisa uses her aunt's combination of allspice, cumin, coriander, turmeric, paprika, nutmeg, cardamom, garlic and a touch of cinnamon.
"I grew up cooking with my dad and my grandmother," said Lisa, who now cooks with her aunt in Chicago during frequent visits there.
Perhaps Nineveh's most unusual menu item is the pita-wrapped burrito-like sabich. It's filled with hard-boiled eggs, fried eggplant, hummus, cucumbers, tomatoes, tahini sauce, housemade pickled beets and turnips, and pickled salty/sour mangoes. Flavors change with each bite. A vegan version substitutes potato for egg.
Nineveh also offers dolmas -- grape leaf-wrapped rice -- which are common across the Mediterranean. Each country/culture has a slightly different variation.
"Some are wet, some are dry," Jacob said. "There are sour variations and sweet variations."
Even within Assyrian culture, there are variations. The Davids' aunt makes hers with dates and tamarind. Lisa's tends toward a lemony and dill variant.
Despite their cuisine's Middle Eastern origins, the Davids use as many local products as possible. They bought 2,000 pounds of produce from local farmers in 2012. They use Washington-grown chickpeas for their hummus and falafel.
Smaller items round out the menu. Battered and deep-fried cauliflower is served with a homemade aioli. Pita chips are flavored with za'atar -- a blend of thyme, oregano, sumac, sesame and sea salt. A new item, bourek, is like an Assyrian egg roll.
On the sweet side, they sell sodas from Lebanon and housemade date and coconut rolls flavored with walnuts and cardamom.
Lisa also runs a busy catering business. Most of her customers want her Assyrian menu. Next up on the Davids' to-do list is opening a brick-and-mortar restaurant in Olympia that will allow them to serve a more expansive menu.
"Being in a truck, we're limited on what we can do," Lisa said.
But for the moment, her focus is on her food truck.
"It feels good to serve 100 people out of a tiny space," Lisa said. "I own it, and I don't owe anybody any money.