A Tribute to an Assyrian Doctor
By Joe O'Loughlin
Posted 2012-11-28 05:07 GMT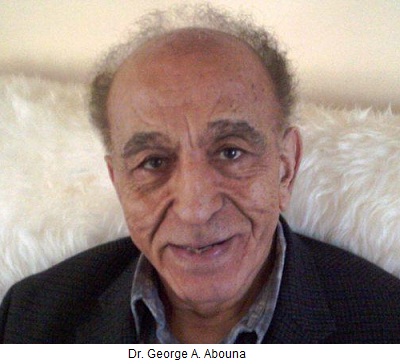 The story of Dr. George A. Abouna is one of the triumph of hope, faith and perseverance over the trials of disappointment, difficulties and daunting challenges. Yet, this humble man philosophically summarizes things perfectly and succinctly by saying, "The joy is in the giving not the taking."
When you meet Dr. Abouna, a gentleman in the truest sense of the word, it is hard to believe that this quiet, unassuming person is a renowned surgeon and pioneer in the field of transplantation. When you look into his solemn eyes and see the deep lines etched into his face you get a palpable sense of a fully engaged human being who feels the world's suffering.
"I wanted to help people. That was the driving factor," Abouna said. The kind of drive and desire needed to achieve that noble goal was tested from the very beginning. How did this fascinating man make the journey from a young boy growing up in the small village of Elkosh in northern Iraq to being an esteemed physician living in suburban Delaware County?
"My dream was to become a physician," he said.
It was not going to be easy. On April 5, 1933 Gergis (George) was the second child born to Mansour and Rachel Abouna, a Christian family. Elkosh's history dates back to the time of Christ when it became one of the first Assyrian (which is now modern day Iraq) cities to convert to Christianity. Gergis and his sister Warda knew what it was like to be in a hardworking farming family. However, in 1939 the Abouna family moved to Baghdad in the quest for better opportunities.
"It was there that I began to see the possibilities that existed when I was in high school," Abouna said.
He was very bright and talented. At that time, the government awarded full scholarships to the best students, usually to England. The good news was that Abouna was among the cream of the crop. The bad news?
"In 1951, the scholarship that I was awarded was for engineering. The government felt that the Royal College of Medicine (in Baghdad) was very well established and was capable of training physicians so there was no need to send students abroad for that discipline. It was felt that engineers were needed and that England offered the best universities for this kind of training," said Abouna.
A lesser man might have been discouraged, might have rationalized that being an engineer was not so bad and taken the course of least resistance. Dr. George Abouna is not such a man.
He left to attend the University of Durham in 1951 and attained degrees in both mechanical and electrical engineering in 1956.
"But I never gave up my dream of becoming a doctor," he said. The irony was that his engineering background would turn out to be a great benefit later on when he developed machines to regenerate organs as well as keep them viable until transplant surgery could be performed.
"I kept at it and finally persuaded the Dean of the Medical Faculty (at Durham) that I was meant to be a physician," said Abouna. To pursue his medical degree, the young man worked four jobs to finance his dream. In 1961 he graduated from medical school.
Dr. Abouna fused his medical and engineering skills when in 1968 he developed the device that is known as the Abouna Liver Support Apparatus.
"I was able to construct a machine that would connect the arteries and veins of the liver to it and cleanse the organ, just like a dialysis machine for kidneys," he explained.
The medical marvel was able to help in the treatment of hepatic (liver) coma.
Abouna did not stop there but adapted the machine so that it could help prolong liver viability for transplantation. He found a way to keep the organ functioning until a transplant was available for the patient.
"Working on that showed me how my engineering skills came in handy," he noted.
Not surprisingly, the skilled physician was in great demand. He became a world traveler. He was asked to come to work at the University of Colorado in 1969. It was there he began his clinical training in transplantation. Abouna brought along his Liver Apparatus machine. His reputation continued to grow as countless patients were helped due to Abouna's device.
He caught the attention of Dr. David Hume, the chairman and professor of surgery at the University of Virginia. In 1971 Hume asked Abouna to join the staff there. Right away, Abouna's machine helped save the lives of two people who were suffering from viral hepatitis and were only hours from death.
"I was supposed to return to England to the University of Newcastle upon Thyne but God had other plans," said Abouna.
The offers in the United States were coming fast and furious for the now famous physician.
"I decided to accept a position as consultant surgeon at the Medical College of Georgia. I was able to expand the existing transplant unit there," recalled Abouna.
It was there that Abouna caught the attention of (then Georgia Governor) Jimmy Carter. Abouna was asked to treat the wife of a friend of Carter who was suffering from renal failure. The patient was successfully treated and was recovering. Sadly, the woman while on the road to recovery lost her life due to an accidental disconnection of a ventilator in her hospital room.
Abouna's success stories kept multiplying as many more patients were referred to the college under his care.
"Governor Carter was so grateful that he honored me with a state dinner," said Abouna, a smile crossing his face.
These were busy and joy filled years for Abouna who performed many transplants during his stay in the U.S. Not only were things doing well on the professional front but George was happy with a wife (Jennifer) and four children, Linda, Adam, Sarah and Cathy.
"In 1973 I was contacted by Sir Michael Woodruff of the Edinburgh Royal Infirmary. He was planning to retire in a few years and thought I might be a logical successor to him to lead the transplant unit there," said Abouna. After several years in America, Abouna felt it was time for his family to return to the place that he considered his second home. Success continued as Abouna became one of the pioneers of transplantation in the United Kingdom. He was credited with performing the first living donor kidney transplant in that country. Abouna also performed the first renal transplant surgery for a pediatric patient.
However, life is not without its bumps in the road as George had discovered decades before when he was initially detoured from the world of medicine. This time family matters caused a re-direction for him. His oldest daughter, Linda, had grown accustomed to the U.S. and left to return to America. Abouna's wife was not comfortable with the idea of her teenage daughter being alone so she packed up the rest of the family and flew back to Augusta, Georgia.
The strain was so obvious on Abouna that when he explained to Dr. Woodruff that he was going to resign the kindly mentor said to him, "You must put family first. If you are not happy at home, you cannot be happy at work."
Thus began another chapter in his life. The myriad stories of this wonderful man could fill a library and then some. After another sojourn in America, Abouna worked in Calgary, Alberta, Canada, before returning to the Middle East in 1975. It was there that he spent the next quarter century positively impacting the lives of thousands of people. He established organ transplant programs in Iraq, Kuwait, Bahrain, Syria, Algeria, Tunisia, Sudan, Morocco and Libya. Abouna established the Middle East Society for Organ Transplantation. For his tireless work as a humanitarian and physician he received innumerable honors.
"I was deeply grateful to receive the Albert Schweitzer Gold Medal that was given to me for, as described on the plaque, 'great merits in medicine and humanism,'" Abouna noted with appreciation.
Beyond the operating room he has been published 139 times in medical journals as well as having authored or edited several books and three medical journals. In 1990 Hahnemann University beckoned which is how Abouna put roots down in Delaware County.
"We performed the first pancreas transplant in Pennsylvania," said Abouna about yet another ground-breaking first he pioneered. He worked at Hahnemann for five years before returning to the Middle East and lending his vast reservoir of skills to the College of Medicine and Medical Science in Bahrain. Finally, it was back to the U.S. at the turn of the new millennium and finally a well-deserved retirement.
That is, if you can consider this true Renaissance man retired. A member of St. Katherine of Siena parish the doctor lends his resonant baritone to the church choir. A man of deep faith he is a regular retreatant at St. Joseph-in-the-Hills at Malvern.
"Dr. George is a wonderful human being," said his friend and fellow parishioner Paul Hayes. "You would never know from meeting him and talking to him about all his many, marvelous exploits. He is so humble and never seeks notoriety," Hayes stressed.
Man of faith. Man of medicine. Family man. A decent man. A skilled man. But most of all, Dr. George Abouna is a man who never gave up pursuing his dream, no matter what the sacrifice, no matter where the road took him.
A man of quiet, unwavering and deep compassion for his fellow man, Dr. George Abouna is to be admired and imitated. During his nearly eighty years on this earth, he has proven to be a healer, not just of the body, but of the heart and soul as well.