Iraq's President Meets Pope Francis
By Azhi Rasul
Posted 2023-11-18 21:58 GMT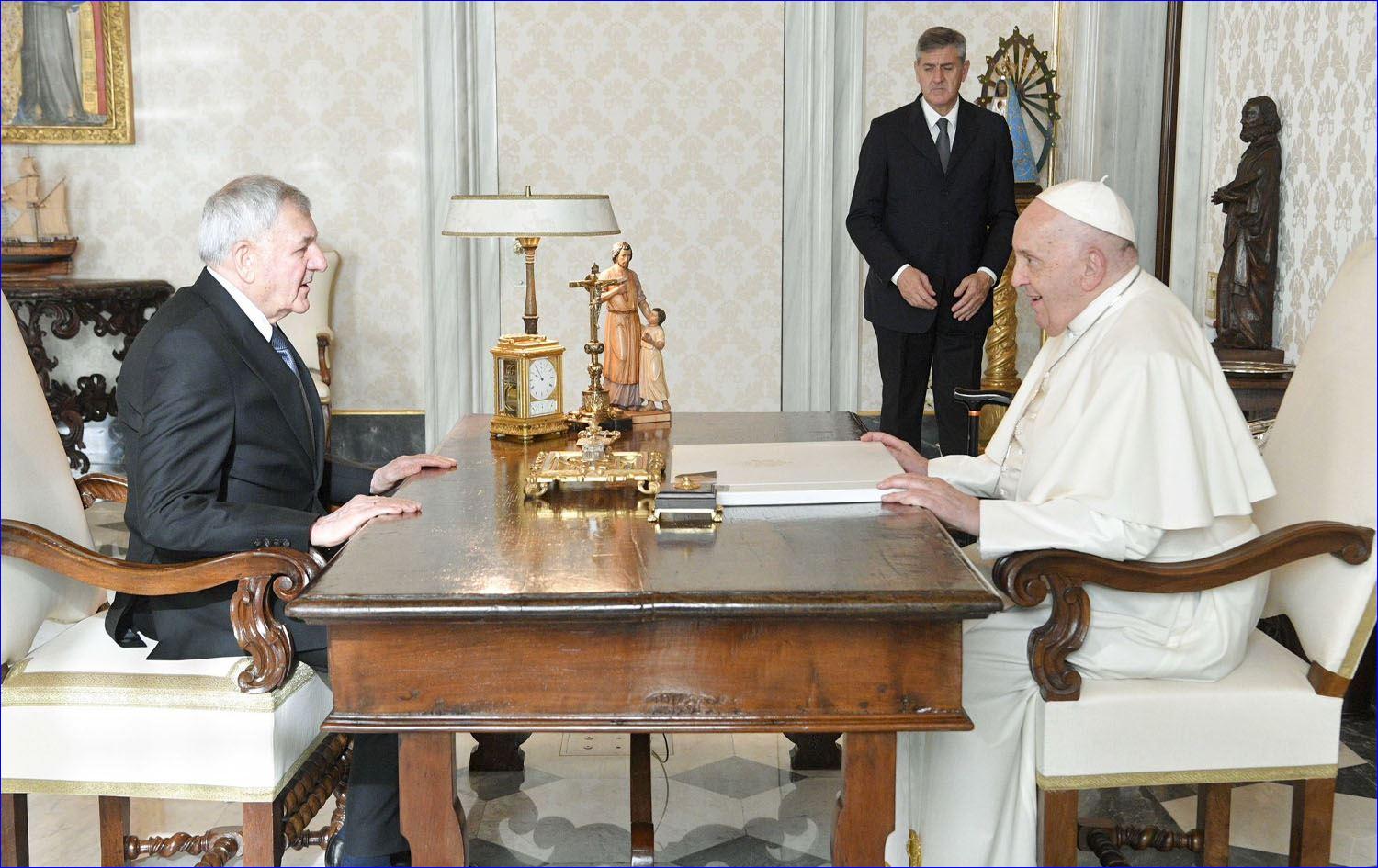 Iraq's President Abdul Latif Rashid on Saturday met with the head of the Catholic Church Pope Francis in the Vatican after a controversial dispute earlier this year with the head of the Chaldean church.
Rashid and Pope Francis discussed the situation of Christians in Iraq with the president saying they are a "key component in the building of the country, its progress and prosperity," according to a statement released by his office.
The Vatican described their discussion as "cordial" and covering "topics of common interest."
"The need was reiterated for the Catholic Church in Iraq to be able to continue to carry out its valued mission and for all Iraqi Christians to be a vibrant and active part of society and the territory, particularly in the Nineveh Plain," read the statement from the Vatican.
Four months ago, Rashid revoked a 2013 presidential decree that formally recognized Chaldean Patriarch Cardinal Louis Raphael Sako and granted him powers over Christian endowment affairs. Rashid cited constitutional grounds as a basis for the revocation of the decree that was issued by late Iraqi President Jalal Talabani.
The decision followed a meeting between Rashid and Rayan al-Kildani, a rival of Sako and leader of the Christian Babylon Movement, a party and militia affiliated with the pro-Iran Popular Mobilization Forces (PMF, or Hash al-Shaabi in Arabic).
The Babylon Brigades, the paramilitary wing of the Babylon Movement, "is presented as a local Christian force but has been recruited largely from Shia Muslim communities in Baghdad's Sadr City, al-Muthanna, and Dhi Qar," and its objective is domination of the Nineveh Plains, a March profile by the Washington Institute concluded.
The brigades have been accused of illegally seizing historic Christian land in Nineveh province after ISIS was driven out of the area. Human rights abuses committed by the group ultimately led to the United States Treasury sanctioning Kildani in 2019 for the abuses as well as corruption.
Rashid's decision to revoke recognition of Sako sparked nationwide protests from the Christian community and leaders, who condemned what they called a "direct attack" on the patriarch.
In July, Sako decided to withdraw from his patriarchal residence in Baghdad and move to Erbil. "Religious symbols are respected in the Kurdistan Region," Sako told reporters on his arrival in the Kurdish capital. "The evidence is this warm welcome and respect. This is the return of dignity for us."
In an Interview with Rudaw's Dilbixwin Dara last month, Sako said moving to Erbil was a form of protest to put pressure on Rashid to restore the presidential decree. He also slammed Kildani and accused him of using the name of Christianity to commit crimes, as well as demographic change in the Nineveh Plains.
Iraq's Christian community has been devastated in the past two decades. Following the US-led invasion in 2003, sectarian warfare prompted followers of Iraq's multiple Christian denominations to flee, and attacks by ISIS in 2014 hit minority communities especially hard.