Putin, Trump Issue Joint Statement on ISIS, Syrian Sovereignty
By David Martosko
Posted 2017-11-11 18:42 GMT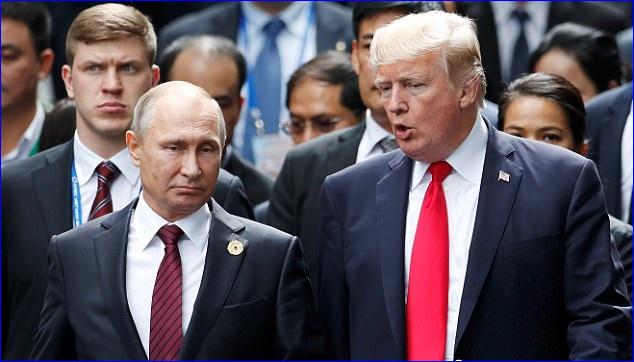 The United States and Russia agreed Saturday to cooperate to defeat the ISIS terror army, and backing a set of principles related to forcing a resolution to the bloody civil war in Syria.
A statement from the Russian government -- which the White House has yet to confirm -- says Presidents Donald Trump and Vladimir Putin met 'on the sidelines' of the Asia-Pacific Economic Cooperation summit in Da Nang, Vietnam.
It also says Russia and the U.S. are committed to keeping lines of communication open in order to 'prevent dangerous incidents between American and Russian military forces' while the U.S. and its allies are fighting ISIS.
Trump and Putin both attended the APEC leaders' summit on Saturday, and were pictured talking and shaking hands before it began.
Trump told reporters later aboard Air Force One that the pair had 'two or three very short conversations' during the summit.
Trump did most of the talking, according to a person who witnessed the conversation.
An English translation of a Russian-language version of the statement issued afterward says the two leaders 'confirmed their determination to defeat ISIS in Syria.'
It also confirmed that the U.S. and Russia agree that 'that the conflict in Syria cannot have a military solution.'
Instead, the White House and the Kremlin are committed to forcing Syrian strongman Bashar al-Assad to engage in a political transition out of power, as dictated by a resolution the United Nations Security Council passed in December 2015.
The resolution demanded a 'free and fair' election by a deadline that passed in June 2017.
Trump and Putin also discussed 'de-escalation zones' in Syria, which the Assad regime has largely ignored and continues to strike with impunity.
The Kremlin published a Russian-language 'joint statement' on its website Saturday afternoon while Trump and Putin were attending the APEC meeting.
It was negotiated behind the scenes in Da Nang by U.S. Secretary of State Rex Tillerson and Russian Foreign Minister Sergey Lavrov.
White House press secretary Sarah Huckabee Sanders had told reporters on Friday that Trump and Putin would not meet in Vietnam.
'Regarding a Putin meeting, there was never a meeting confirmed, and there will not be one that takes place due to scheduling conflicts on both sides,' Sanders said aboard Air Force One.
'There is no formal meeting or anything scheduled for them.'
'Now, they're going to be in the same place,' she allowed. 'Are they going to bump into each other and say hello? Certainly possible and likely.'