Commission Releases Sample Ballot Paper for Kurdistan Referendum
Posted 2017-09-06 17:23 GMT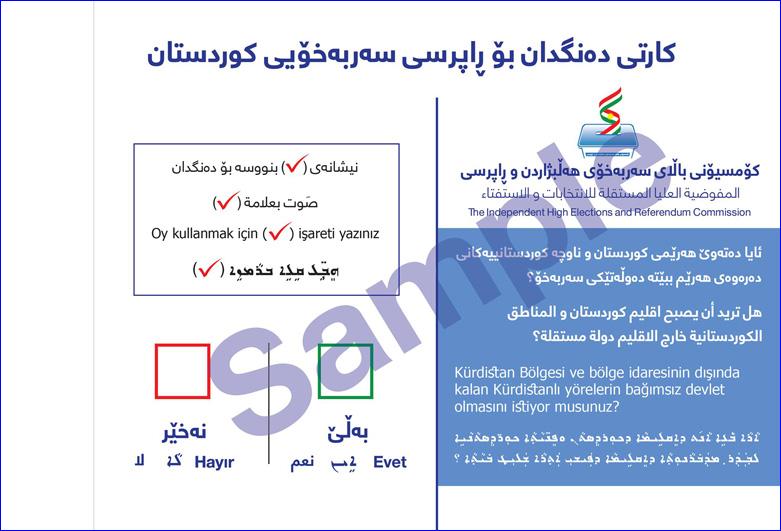 On Wednesday, the Kurdistan Independent High Election and Referendum Commission (IHERC) released a sample ballot paper for the upcoming independence referendum for the Kurdistan Region.
The people of the Kurdistan Region are heading toward a historic day, where on Sep. 25, they will decide whether to remain a part of Iraq or secede as a newly-created independent country.
On Wednesday, the IHERC revealed the sample ballot paper, which shows the question written in four languages: Kurdish, Arabic, Turkmen, and Assyrian.
"Do you want the Kurdistan Region and Kurdistani areas outside of the [Kurdistan] Region to become an independent country?" the question asks in all four languages.
According to the IHERC, the disputed territories currently under the administration of the Kurdistan Region will also be included in the upcoming referendum.
In total, over five million people are eligible to vote in the referendum, including Kurdistani people currently living in the Diaspora.
President of the Kurdistan Region Masoud Barzani has repeatedly mentioned that an independent Kurdistan would be democratic, with a federal system where the rights of all ethnic and religious groups in the Kurdistan Region would be protected.
Despite opposition from Baghdad, neighboring countries and the US regarding the timing of the vote, senior Kurdish officials insist on holding the referendum as scheduled, stating there have been no guarantees given to the people of the Kurdistan Region should they agree to delay the vote.
Editing by G.H. Renaud.