Egypt's Coptic Pope Warns of Increased Attacks on Christians
Posted 2016-07-26 00:09 GMT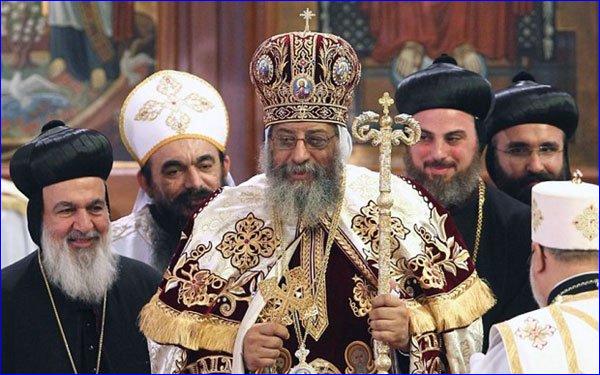 Egypt's Coptic Pope Tawadros told a parliamentary committee on Sunday that the country's legacy of religious unity is currently being "defaced" in the wake of sectarian attacks against Christians in Upper Egypt. "The incidents we heard about are very painful. On my part, I'm patient and enduring, but there have been incidents that warn of danger," a Coptic Church statement quoted the pope as saying.
The pope made his comments after he met with a parliamentary delegation which was composed of members of parliament' Committee on Religious Affairs and the Support Egypt bloc at Cairo's Al-Abbasiya Cathedral.
The pope cited a report compiled by the church showing that in the past three years there have been 37 attacks on Christians; an average of one attack per month.
Last week, Muslim assailants set ablaze Christian homes in the village of Abu Yacoub in Minya over a rumour that a Christian intended to turn a kindergarten into a church.
Also last week, a Muslim mob stabbed a Christian to death in the village of Tahna - also in Minya - during a street argument.
In May, Muslim villagers torched seven homes of Christians and assaulted a Christian man's elderly mother in Minya's El-Karm village, stripping her and parading her naked in public. The assault was sparked by rumours that the man was having an illicit relationship with a Muslim woman.
The delegation also discussed a draft law on the construction of houses of worship to be presented to parliament in the next few weeks.
Saad El-Gamal, the head of the Support Egypt coalition, praised the pope's "wisdom" and described it as a "safety valve for this nation."
El-Gamal praised Pope Tawadros citing his 2013 patriotic statement of "a homeland without churches is better than churches without a homelabd," following the torching and ransacking of churches by supporters of ousted Islamist president Mohamed Morsi.
El-Gamal said the religion committee is currently preparing a law that would criminalise sectarian attacks as "crimes against national unity."
The head of the committee Osama El-Abd said that work must be put in to "build our modern state in the face of discord."
"I have Christian friends, we are partners in [business], and they have never harassed me or subjected me to injustice," El-Abd said in his speech in front of the parliamentary and church delegations.
Following the sectarian attacks, Egypt's President Abdel-Fattah El-Sisi urged unity between Egyptians, saying Christians and Muslims are equal in their rights and duties.
"Whoever has committed wrongdoing will be held to account by the law," he said.
There are no official figures on the number of Christians in Egypt, but informal numbers suggest that Christians make up around 10 to 15 percent of Egypt's population of 91 million.