ISIS Publishes Report About Coptic Egyptian Workers Kidnapped in Libya
By Zeinab El-Gundy
Posted 2015-02-12 23:34 GMT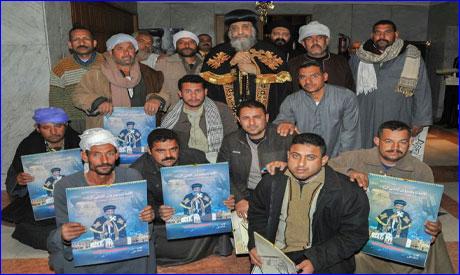 The Islamic State group published a report apparently showing photos of 21 Coptic Egyptians recently kidnapped by militants in Libya, claiming they captured the migrant workers to "avenge the kidnapping of Muslim women by the Egyptian Coptic Church."
The Islamic State published the report in the current issue of its online English publication Dabiq, calling the captives "Coptic crusaders".
The 21 Egyptian Coptic workers, mostly from impoverished villages in Upper Egypt, were kidnapped between late December and early January in the Libyan city of Sirte.
Sirte, 500 kilometres east of Tripoli, is in the hands of Islamist militias, including Ansar al-Sharia, which the UN Security Council in December added to its terror list for links to Al-Qaeda and for running Islamic State training camps.
Islamic State militants based in Libya claimed responsibility for the kidnap of workers in Sirte last January.
The undated photos showed captive workers wearing orange jumpsuits usually donned by Islamic State prisoners before they are executed by the jihadists.
The group claimed that Egyptian Christian women who converted to Islam were tortured and killed by the Coptic Orthodox Church.
The latest high profile case of execution by the Islamic State took place in early February when the jihadists killed captured Jordanian pilot Moath All-Kasasseba by burning him alive.
Egypt's foreign ministry is following the development and trying to verify the claims, spokesman Badr Abdel Atty has said.
On Thursday evening the Egyptian presidency issued a statement saying that it was following the matter closely and seeking to verify the information. The statement added that the committee assigned by President Abdel-Fattah El-Sisi to follow the situation of the kidnapped workers was in contact with official and non-official Libyan sources in order to find out the latest developments in the case on the ground.
In January Foreign Minister Sameh Shoukry assigned a special committee to secure the return of the kidnapped nationals.
The Islamic State also said its kidnapping of the workers "commemorates" the October 2010 bombing of the Catholic Church in Baghdad.
The Islamic State of Iraq, a forerunner of the Islamic State, claimed responsibility for the bombing of the Baghdad church in 2010 which killed at least 58 people.
Several Coptic Christian Egyptians have been killed in Libya in recent years. Last year, the bodies of seven Christians who had been shot were found near the city of Benghazi.
In December, armed men abducted and murdered a Coptic teenager in Sirte after murdering her parents.
Thousands of Egyptians work in Libya, primarily in the construction industry.
Egypt renewed its warning against travel to Libya in December.