Syria's 'Western-Backed' Rebels? Not in Weapons
By Marlin Dick
Posted 2014-05-31 18:54 GMT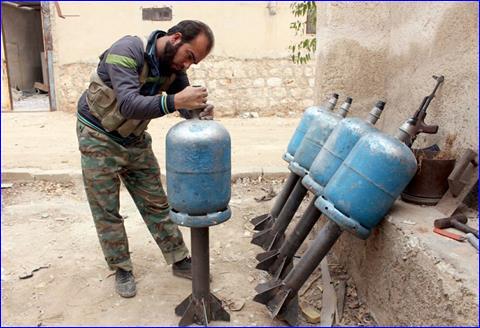 Beirut -- For most of the Syrian uprising, media outlets throughout the world have described the opposition as being "Western-backed."
The political opposition-in-exile umbrella group the National Coalition has certainly earned its share of support from Western capitals, in the realms of politics and diplomacy, but using the adjective to describe the armed opposition has some serious limitations, such as in the realm of weaponry.
For a variety of reasons, a main one being the less-than-adequate military assistance from abroad, many rebel groups have relied on do-it-yourself weaponry, as mini-arms industries have sprung up.
The rebels have also, throughout the course of the uprising, amassed significant quantities of weapons, ammunition, vehicles and equipment by overrunning regime positions and capturing lightly guarded depots.
Jeffrey White, a defense fellow at the Washington Institute for Near East Policy, believes that captured weaponry appears to be the most important fuel of the armed rebellion, followed by self-made arms and materiel, and then foreign-supplied items.
"However, the quality and efficiency of self-made weapons varies significantly. There are a lot of 'unguided rockets' being fired, and where they land is anyone's guess," he said.
Although White cautions that there is an absence of reliable, comprehensive data, certain conclusions can be drawn from the anecdotal and other evidence.
"The DIY [do-it-yourself weapons] industry is substantial ... the situation is a lot like the Libyan conflict," White continued, noting how local artisans there managed to contribute to the war effort by building weapons.
However, Libya did not have an Aleppo, the country's economic leader and industrial hothouse before the conflict erupted.
The city was famous as the destination for anyone who wanted to manufacture a given item or product -- just take a rough sample to a workshop or competent craftsman, and the project was as good as done, Syrians used to boast.
The regime and its supporters often talk about how rebels have established workshops for manufacturing car bombs, but these are largely outstripped in importance by the mini-industries that produce a range of conventional military weapons, such as hand grenades, mortar bombs, rocket launchers and crude rockets, and in some cases the wooden crates and boxes used to transport items around the country.
The homemade "hell cannon," for example, relies on a butane gas canister filled with several types of explosive materials, and is believed to have been pioneered last year by rebel groups in the north of the country.
The do-it-yourself sector has witnessed several recent, significant announcements, according to experts and observers.
Last week, the Nusra Front, Al-Qaeda's affiliate in Syria, announced the establishment of its own military production line, dubbed "Bas," or "Might" in Arabic.
The group said it was seeking to make up for both the lack of quality weapons available to the armed opposition. Nusra, which cooperates on a wide scale with many -- but not all -- mainstream rebel groups, praised the many attempts to compensate for the regime's superiority in materiel over the last years, but said these efforts were hampered by being of an "individual," ad hoc nature.
For Yezid Sayigh, a senior associate at the Carnegie Middle East Center in Beirut, the announcement by Nusra merely confirmed something that was already widely known, and in operation.
"Nusra started to talk about their defense 'industry' last September, and of course we've seen pictures and accounts of crude improvized weapons since the start," he said.
He agreed that, depending on the type of weaponry, foreign-supplied arms have been outstripped in importance by other sources.
"Most of [the rebels'] medium and heavy weapons have probably come from the regime army, which makes sense and is often a major source of supply for any rebel movement," Sayigh added.
"As for cruder things like butane gas bombs, that may be limited to areas that are besieged and have difficulty getting hold of proper weapons, or groups that lack funds to go shopping."
Sayigh and other experts say that the rebels are in an ongoing, trial-and-error process of determining which homemade weapons are effective, as various groups try and then abandon items that don't work out.
Within the homemade weapons sector there are specializations among regions, according to a Syrian observer of the military conflict.
"Aleppo is the place where the most sophisticated items are being invented," said the observer, who asked for anonymity because of the sensitivity of the subject. "In other places, such as Idlib, the production is more basic -- such as rockets, and the explosives that go in them."
"Some large rebel factions, such as the Army of Islam and the Ajnad Union, have their own weapons minifactories, largely in the suburbs of Damascus. And then you have smaller, 'independent' workshops, where things are manufactured for a variety of rebel groups, and operate more for commercial reasons," he continued.
The observer said that while the Nusra Front announcement of its own weapons-making capability was important, it might have been made due to political calculations.
As one of the most well-funded and well-equipped groups, the Nusra Front can rely on its formidable international network of supporters and financiers, unlike most "local," or purely Syrian rebel militias.
"Nusra already has huge quantities of weapons, some of them captured from regime forces," he said.
Amid increasing talk that the United States and other foreign backers are seeking to isolate Al-Qaeda fighters, the Nusra Front is now feeling increased pressure, the observer added.
Some of the Nusra Front's regular allies on the battlefield issued a "code of honor" statement earlier this month that many people interpreted as an attempt to put distance between them and Nusra's jihadist ideology and significantly non-Syrian makeup.
"The announcement of an arms industry by Nusra can also be seen as a kind of message," the observer said. "It's a way of saying, 'you can't get rid of us this easily.'"
Meanwhile, the last part of May has seen two other developments on the homemade weapons front.
A video posted on YouTube shows rebels in Aleppo touting their newest achievement, in the form of a remote-controlled machinegun that lets them fire at regime troops while sitting safely at a distance, monitoring prospective targets and directing fire using a computer screen.
The other invention, engineered by natives of Deraa, is a small drone aircraft that rebels claim will be able to drop explosives weighing between 20 and 50 kilograms.
The observer said the makers of the drone have yet to prove that it is viable, but added that the effort could have a psychological impact on regime troops if they are unable to use sophisticated anti-aircraft systems to bring down the low-flying devices.
Officials from the National Coalition have promised recently that the military balance will soon be tipped in favor of the rebels, presumably by the lifting of a western veto on long-sought-after anti-aircraft weapons -- such vows of imminent "surprises" have surfaced frequently during the war, however.
After the Geneva peace talks floundered this year, rebel leaders say Washington began training small groups of carefully vetted mainstream rebel groups in Qatar and supplying them with TOW anti-tank missiles, but these have done nothing to offset the regime's air power.
In the meantime, rebel groups have continued to all sorts of captured and homemade weapons, including something as crude as medieval-style catapults and trebuchets, to launch explosives at regime targets.
"Catapults? I don't think I've seen that anywhere else," White said.