Iraq Unveils Restoration Plan for Heritage Sites
By Khalid al-Taie
Posted 2014-01-09 22:40 GMT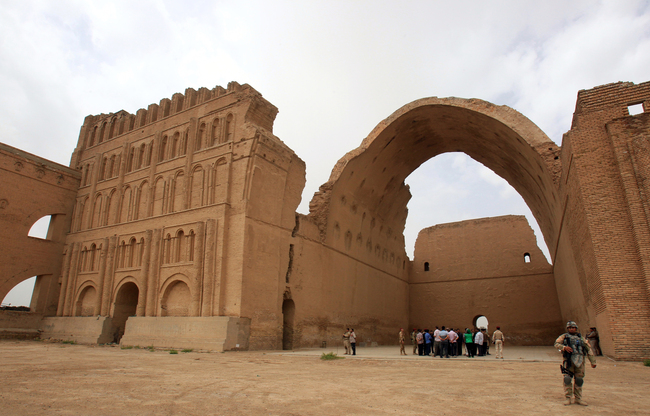 Baghdad -- The Iraqi Ministry of Tourism and Antiquities at the start of the new year unveiled a strategic plan to restore and rehabilitate heritage and tourism sites across the country.
Five out of the 32 heritage and tourism sites listed on the plan will undergo repairs within the next few years, said Dhafer Sobhi Saleh, general director of the ministry's directorate for antiquities maintenance and conservation.
These "include the historical cities of Babylon, Ur, Warka, Hatra and Ashur, where rehabilitation work will include maintenance of heritage buildings and landmarks, and development of infrastructure and tourist and recreational services", he told Mawtani.
The Ministry of Planning allocated 15 billion Iraqi dinars ($13 million) in this year's budget to revamp the five sites, he said, adding that officials estimate it could take as much as 200 billion dinars ($172 million) to rehabilitate all the sites listed on the plan.
Four Italian, Czech, and Ukrainian companies have indicated their agreement to help with rehabilitation work, Saleh said.
The directorate for antiquities maintenance and conservation "has completed all technical and logistical preparations, and established collaboration and co-operation with the security services in the provinces with the aim of securing and protecting worksites," he said.
In the past two years, the directorate has worked on several archaeological maintenance projects, such as the rehabilitation of the Arch of Ctesiphon in the historic district of al-Madaen, southern Baghdad, and the development of the entrance to the National Museum, he said.
Another project aimed at protecting archaeological sites involves installing ground sensors around each site to detect and monitor movement and transmit it to specialised offices and security services via satellite, Saleh said.
"This project, which we hope to launch this year, is among the most important to help curtail random excavation by antiquities thieves at archaeological sites that do not have sufficient protection," he said.
"This in turn protects the human and cultural heritage of Iraq against theft and smuggling," he added. 'Crucial plan' for tourism
Ahmed Kamel, general director of investigation and excavation at Iraq's General Authority for Antiquities and Heritage, said the plan is crucial to improving the state of the country's historic and tourism sites.
It also will bolster efforts to get them listed as world heritage sites, he added.
"Iraq abounds with ancient sites, whose structures and archaeological landmarks need rehabilitation and on-going maintenance, and which need upgraded services and infrastructure systems," Kamel told Mawtani.
Officials prepared a full dossier on the ancient city of Babylon and turned this over to the UN Educational, Scientific and Cultural Organisation (UNESCO) in a bid to get the city registered as a world heritage landmark, he said.
Work is under way to prepare similar dossiers on other sites, including Ur, Warka, al-Mustansiriyah School, the Abbasid Palace, Wastani Gate and four archaeological sites in Iraq's marshy area, he added.
Bakr Hama Siddiq, chairman of the parliamentary committee on tourism and antiquities, said his committee welcomes the plan.
"We stand behind any plan or project that aims to develop our archaeological and heritage sites, because this civilised legacy represents our real wealth, which we must protect and present to the world in its best form, as it reflects our culture and historical record," he told Mawtani.