Syrian Bishops Kidnapped By Rebels
Posted 2013-04-22 19:05 GMT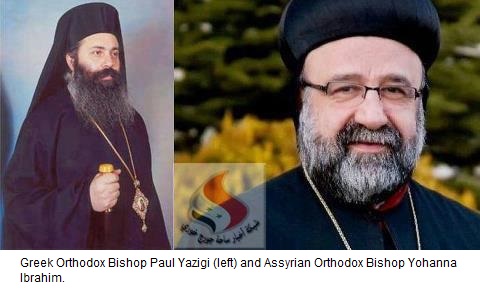 BEIRUT (Reuters) -- Two Syrian bishops were kidnapped on Monday by armed rebels in the northern province of Aleppo, state news agency SANA said.
It said the Syriac Orthodox and Greek Orthodox Archbishops of Aleppo, Yohanna Ibrahim and Paul Yazigi respectively, were seized by "a terrorist group" in the village of Kfar Dael as they were "carrying out humanitarian work".
Several prominent Muslim clerics have been killed in Syria's two-year-long uprising against President Bashar al-Assad, but the two bishops are the most senior church leaders to be caught up in the conflict.
A Syriac member of the opposition Syrian National Coalition, Abdulahad Steifo, said the men had been kidnapped on the road to Aleppo from the rebel-held Bab al Hawa crossing with Turkey.
Ibrahim, who is familiar with the route and had crossed there several times before, had gone to collect Yazigi and the two men were driving to Aleppo when they were kidnapped, Steifo said.
Asked who had kidnapped them, Steifo said: "All probabilities are open."
Last September Ibrahim told Reuters that Christians in Aleppo were suffering as a result of the uprising and the city, where rebels and pro-Assad forces have fought prolonged battles, was facing one of the most critical periods of its modern history.
Reporting by Khaled Yacoub Oweis and Dominic Evans; Editing by Michael Roddy.