Assyrian Man Laments Baghdad Church Massacre
By Paul Luce
Posted 2010-11-13 21:50 GMT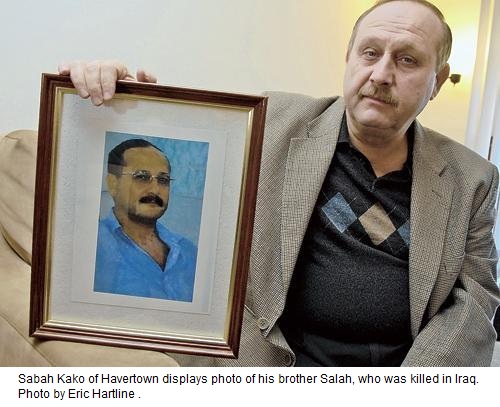 HAVERFORD -- For Havertown resident Sabah Kako, the Nov. 1 terrorist attack that killed 58 parishioners and injured 78 others at a Baghdad church hit less than a mile from what he used to call home.
Among the dead was Kako's brother, Salah, whom the al-Qaeda-linked terrorist group shot in the head. Kako's sister-in-law was shot three times in the back and is in critical condition at a U.S. military hospital in Baghdad.
"This is a horrible, horrible thing," said Kako, who fled Baghdad on refugee status along with his wife and four children in 2008. "They were killed in cold blood, all those people; they were terrorized for five or six hours."
According to the Associated Press, the violence began around 5:30 p.m. when gunmen drove a Jeep Cherokee to Our Lady of Salvation Church, blew the jeep up and set off four small bombs in the neighborhood.
After wounding two policemen in a brief shootout, the seven or eight militants charged through the front doors of the church during the evening Mass. They ordered the Vatican to release Muslim women they claimed were being held captive by the Coptic Church in Egypt.
After an hours-long standoff, several gunmen blew themselves up when Iraqi security forces stormed the church.
Kako said he began to have concerns about his family's welfare in Iraq after a car bomb exploded outside of the church in 2006. A former journalist with several international news agencies, Kako said he fled with his family to Jordan for eight months while they acquired refugee status from the United Nations.
Officials in the U.S. Department of State said more than 53,700 Christian Iraqi refugees have fled to the U.S. from sectarian violence in Iraq. The State Department said the vast majority of refugees began fleeing in 2006 after a major mosque in Samarra was bombed.
In the U.S., Kako worked for an Internet-based government contractor. He was recently laid off when his company lost its contract with the Defense Department, he said.
He has spoken at length with his brother's three children, who were in the church when the attack occurred. Though his teenage nephews and niece were physically unharmed, they are mentally and emotionally ravaged, he said.
"They can't even talk sometimes when I try to talk to them," he said. "Their world was shattered because of the five hours staying under terrorists inside the church, and … because their dad is dead (and) their mom is in serious condition."
Kako said his mission now is to give his nephews and niece a new life in the U.S. He is writing a letter to the International Organization for Migration and the U.S. Embassy in Iraq.
"They really need a new life after all these calamities," he said. "They don't have anyone to rely on to care for them … (My brother's) kids are now my responsibility."
Kako said he and his family received much support from their church, St. Sharbel Catholic Church in Newtown Square.
In addition to having a small memorial to Salah Kako, the church held a special Syriac service after the massacre.
"The church was almost full," said church pastor Abouna (Father) Paul Mouawad.
The service was conducted in Syriac (Aramaic), Arabic and English. Traditions from almost every Middle Eastern Christian faith were represented at the service, Mouawad said.