Moon Story, First Assyrian Interactive Children's iPad Book
Posted 2013-08-20 05:10 GMT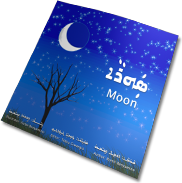 The first interactive Assyrian children's story for iPad is now available in iTunes. During the beginning of the summer Sargon Benjamin, an app developer and C.E.O of Base 2 Applications, was on a creativity hunt. He wanted to make a fun and artistic application geared towards the Assyrian audience: "I had some free time and wanted to work on something new." That was when Sargon contacted Romil Benyamino, the author of Moon, about making interactive digital Assyrian children's books. Romil was all over the idea and the two decided to work together on digitizing Moon. One month passed and the story is now available for iPad, titled Moon Story. "We plan to develop Moon Story for more devices such as iPhone and also Android," says Sargon. Regardless how well these Assyrian applications do with consumers, Sargon and Romil find them very necessary to be available. "I hope we can make more," says Romil, "I already started the illustrations of my next story in hopes to turn that into an app as well."
Moon Story is available in the iTunes Store: https://itunes.apple.com/us/app/moon-story/id687613511?ls=1&mt=8
Description
Take a journey into the wilderness to discover animals and magic of the night. Moon, an interactive Assyrian Children's book, is a colorful way to build Assyrian reading skills. On their way to dreamland, readers will enjoy rich illustrations, read-along narration, and interactive animals while learning their names and spelling in one of the world's oldest languages.You and your children are one tap away from catching the Moon and even waking up a "Diba" - Assyrian for Bear!Don't forget, read from right to left as Assyrians do.
What Parents and Kids are saying:
"Thank you for the audio version of your book; it's really awesome! My children are Assyrian speakers and will totally enjoy hearing another voice tell a story to them in Assyrian. It has been a struggle translating English children's books to my kids. I have to often dig for Assyrian vocabulary that compares to the English translation of the book. Now, I don't have to do that." ~Patricia
"All I can say , CHEBO, brilliant work. Please continue doing this in the future." ~Ashoor
"My four year old cousin said he loves it" ~Sabrina
Features:
Assyrian Neo-Aramaic text and voice overs for correct reading and pronunciation
Over 20 different plants and animals
Written in traditional Assyrian verse
English translations
Interactive and fun
Educational mini-games
Read from right to left teaching your children proper Assyrian Neo-Aramaic reading techniques
Anyone studying other Semitic languages such as Assyrian Neo-Aramaic, Chaldean, Suryoyo, Hebrew and Arabic will also enjoy this app.
Don't miss the soundboard at the end of the story. Tap on the the animals to hear what they are called in Assyrian Neo-Aramaic.
Moon Story is directly based on a popular Assyrian children's book written by Romil Benyamino and illustrated by Victor Benyamino.